Weekly News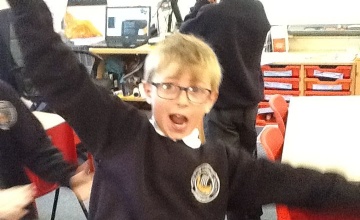 See what Year 4 have been up to this week!
Weekly News 18th May 2018
In our Maths lessons this week, we have been spending further time working on our understanding of tenths and hundredths. We have converted between fractions and decimals and applying our knowledge of tenths and hundredths to measurement. We also continued our times tables practice and a number of children have earnt themselves new Maths Superheroes badges!
In English, we have continued reading our exciting new book, The Watertower. We have spent time predicting, summarising and clarifying. We have spent some more time inferring character and all listened to a piece of dark music. Whilst listening, we drew a character that the music made us think of. We then created a word bank of words we could use to describe our character. We then worked on expressing viewpoint and focused on what Bubba's thoughts on visiting the watertower would be.
We have continued working on our Active Planet lesson, looking at the different myths and legends surrounding ancient volcanoes, earthquakes and tsunamis. We then held a debate on whether or not people should continue to live near active volcanoes. Team Aqua and Team Topaz have also continued working on their Good to be Me work and have started to think about their final parade. Team Aqua continued their French unit and Team Topaz worked on 'proving' their ICT skills to earn their laptop licences.
Team Aqua and Team Topaz have also continued working on their Friday afternoon drama performance.
Home learning:
There is no right or wrong way to complete a Love to Learn task! Please be as imaginative or as creative as you would like! Love to Learn tasks should be returned on the Wednesday following them being set. Whilst books may not be formally marked, in class we will spend time looking at and enjoying what everyone has learned at home and rewards and house points will be given!
"My Home Town" – home learning task
Where we grow up plays a huge part in our lives – shaping who we are, what we do, who we know and where we go! For your home learning project for 'Good to be Me', over the course of Term 5, we would like you to create something that tells us all about what 'My Home Town' means to you. This home learning can take any form – there is no right or wrong way but you can be as creative as you like!
For our new exciting English book 'The Watertower', we would like children to create a 'love to learn' style version of The Watertower