Weekly News 13.12.19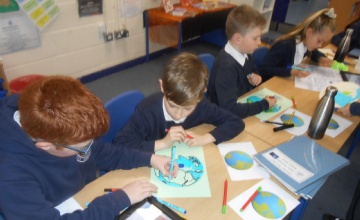 This week, we created a non-chronological report about the island of SKELLIG! We were fascinated to learn that there was an actual island off the coast of Ireland named after our text. We wondered if the two were linked and used the Internet to research the place. To celebrate the General Election, we applied our learning of writing formally to create a Prime Minister speech and then voted on whether we would vote on our policies, based on what was written.
In maths, we have been converting units of measurement (length, mass and capacity). Although it was tricky to remember whether we had to multiply or divide by 10, 100 and 1000, we were aware to use use place value to help solve our calculations. We will revisit this later in the year.
In topic, we closed our terrific topic of Space Explorers by creating facts and making 3D stars!
As KS2 Christmas service is fast approaching (17th December), we have also been preparing our performances and getting into the festive spirit! In year 6, we still work hard until next week when we can celebrate another successful term when we can have fun at our class party, Christmas service and Christmas jumper day! On the topic of the Christmas party, which is next Monday, please remember to bring in a contribution (children brought home a slip asking for savoury / sweet snacks or soft drinks)
Is there life on other planets? For Love to learn this week, we would like you to do some research on whether scientists have found - or will ever be likely to find - life on distant planets. You can present your findings through a news report, artwork, a narrative or any other way you wish as long as you use facts to base it on, not fantasy.