Friday 11th September 2020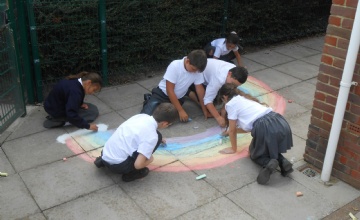 Hello Year 6! Thank you for visiting our blog!
What a busy week we have had! We are now back in full swing and it has been such a pleasure to see the pupils rise to the challenge of Year 6 so far. Our new class text is entitled "The Lady of Shalott". It is a classical poem that tells the story of a lady embowered in a tower. Well done to everyone for their impressive setting and character descriptions this week. It was joyful to see the children using their own bodies to collect vocabulary and ideas to solve the mystery of "Who is the Lady of Shalott?" and also using ambitious vocabulary choices to describe the setting of the poem. In Maths, our brains have been firing on all cylinders as we have grappled with reading, writing, ordering and comparing numbers up to 10 million.
Next week during Maths lessons, we will surge forward with numbers by rehearsing how to round whole and decimal numbers and also becoming more skilled at doubling and halving different size umbers. We will continue to focus on times table as this skills underpins everything we do in Maths. In English, we will be reading the final part of the poem about The Lady of Shalott. From this, we will be learning how to weave dialogue, description and action in a piece of narrative. We will go through the writer's journey of planning, writing and then editing and improving. Our afternoons will be filled with learning about living in the wider world. We will explore rules and responsibilities, including how this affects our lives now and in the future.
There is no home learning set this week. We do, however, expect all pupils to be reading regularly and writing this in their reading record, which must be brought into school everyday. We also expect children to be regularly rehearsing their times tables at home to support their learning in school.
Don't forget to wear your PE kits to school on PE days (Wednesday) and also if you are attending running club at lunch time.
Have a lovely sunny weekend! From the Year 6 Team.
Mr McAuley, Mrs Bax, Miss Isaac, Miss Lane and Mr Wheeler.