Top Award Celebrates Sport for All at Chilton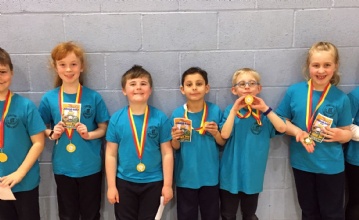 A varied programme of sporting activities plays a large part in life at Chilton Primary School in Ramsgate which proudly holds a top award that highlights its prowess and progress.
The School Games Mark platinum status is the top honour in the government-led scheme that rewards schools for their commitment to the development of competition across their school and into the community. It can only be presented if a school has previously achieved four consecutive gold awards.
Chilton aims to continue inspiring children to lead healthy, active lifestyles through the teaching of a broad range of activities in Physical Education and physical activity.
Kate Law is Head of School/Director of Education. She explained: "In this way, we hope to engage our children in competitive sports both in and out of school hours. Our extensive curriculum challenges learners to excel in all strands of PE and provides opportunities for children to collaborate to become more self-confident. As a result, children embed the values of our school and the importance of staying fit and living a healthy lifestyle.
"Our sports coaches Emma Knight and Carson Arthur work extremely hard to try and ensure that every child has the opportunity to represent the school. We run a wide range of sports clubs and enter a whole range of competitions."
Clubs enjoyed by pupils include archery, football, golf, badminton, tchoukball (a non-contact sport that is a mix of handball and volleyball) and wheels gymnastics. The range of competitions Chilton enters includes table tennis, rugby, badminton, and the Change4Life innovative programme that encourages less active children to do physical activity and engage in school sport while learning about nutrition and a healthy regime.
Children have also represented the school in the Kent finals in badminton and won a fair play trophy for both rugby and its Change4Life activities.
The growing popularity of sport among all age groups and abilities is illustrated by the facts that more than 75% of pupils from Year 1 to Year 6 have taken part in a club this year, with 96% of Year 6 attending a club.
Deputy Head of School Hannah Cheshire added: "The platinum award is a great testament to our commitment and desire to embrace sport for all. We consistently deliver a balanced and broad programme of activities to the highest standard for all of our children who are encouraged to take part at whatever level suits their ability level. It is a fine example of the team spirit at Chilton that is central to everything we do."
Chilton Primary School is a member of the Viking Academy Trust together with Upton Junior School, Broadstairs, and Ramsgate Arts Primary School.
*For more information contact Head of School/Director of Education Kate Law on 01843 597695.