Home Learning Thursday 30th April 2020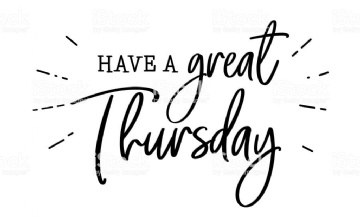 Hi Year 5. We hope you enjoyed your learning yesterday. Keep up the great work and keep completing your tasks - these will not only keep you busy every day, they will also help you when we all come back to school!
Thank you to all the children who are using the Padlet correctly - Keep sharing your learning and ideas. Please only add to the most up-to-date Padlet, don't add to old ones from previous blogs - no one will see them!
View today's learning and new online items listed at the bottom of this blog!
Important message. Are you worried?
Feeling worried is normal, just like all feelings. The problem is, sometimes our worries become very big and we can't stop thinking about them. One very good way to stop our worries taking over our thoughts is to talk to someone.
Sometimes, talking to a familiar adult is a good idea. If you would like to let a school adult know that you are worried or feel unsafe in any way, please go to the Well-Being tab on our website and select 'Worried?' from the drop down menu. On the page, you will see a 'Worry Button'. If you click the button, a box will appear and you can type a message. Your message will be sent to an adult from Chilton. They will find a way to help you.
Sometimes, talking to someone else can help. On the 'Worried?' section of the website, you will find lots of links to other websites. You can click on these and you'll find information, contact numbers and details of people who are able to help you.
Remember, it is normal to feel worried sometimes but if your worry is all you can think about, it is best to talk to a grown up.
If you feel unsafe, for any reason, please contact us using the worry button or use one of the provided links to find help.
Shout outs!
Well done to Freya E who independently followed challenging instructions to create her own scrub bag! Well done. See a picture of it below. Freya also completed her maths too!
Congratulations to Anna for sending in pictures of her maths home learning - great effort and your work is extremely neat!
Great effort from Evie C who has also sent in a huge amount of work. We have added two pieces below.
Well done to Gabriel who completed his maths today!
We would also like to Shout Out to Tom, Jack, Abi, Will, Finley and Freddie - we've enjoyed seeing your work.
Freya E's Scrub Bag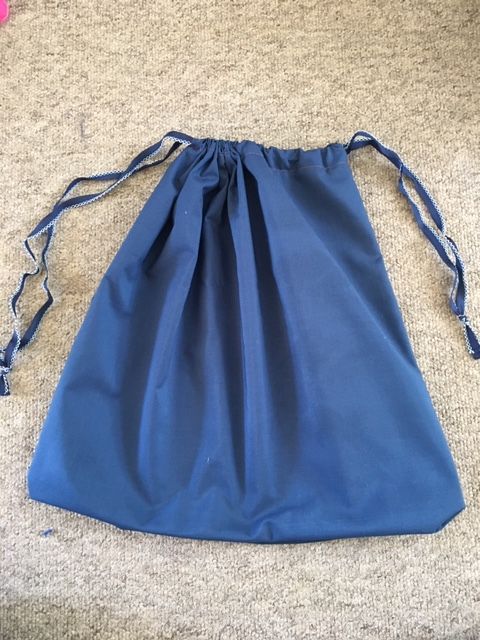 Freya E's Maths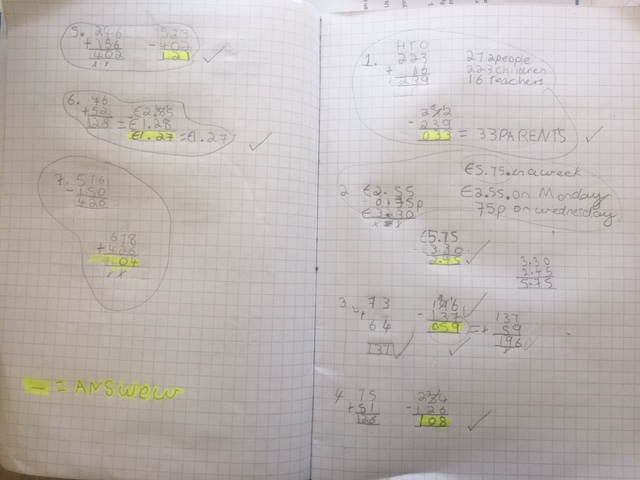 Anna's Maths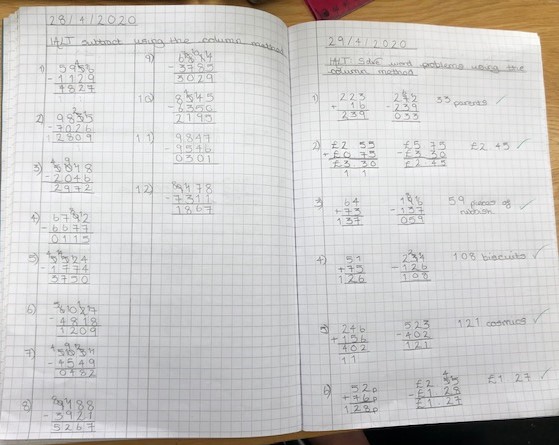 Evie C's Writing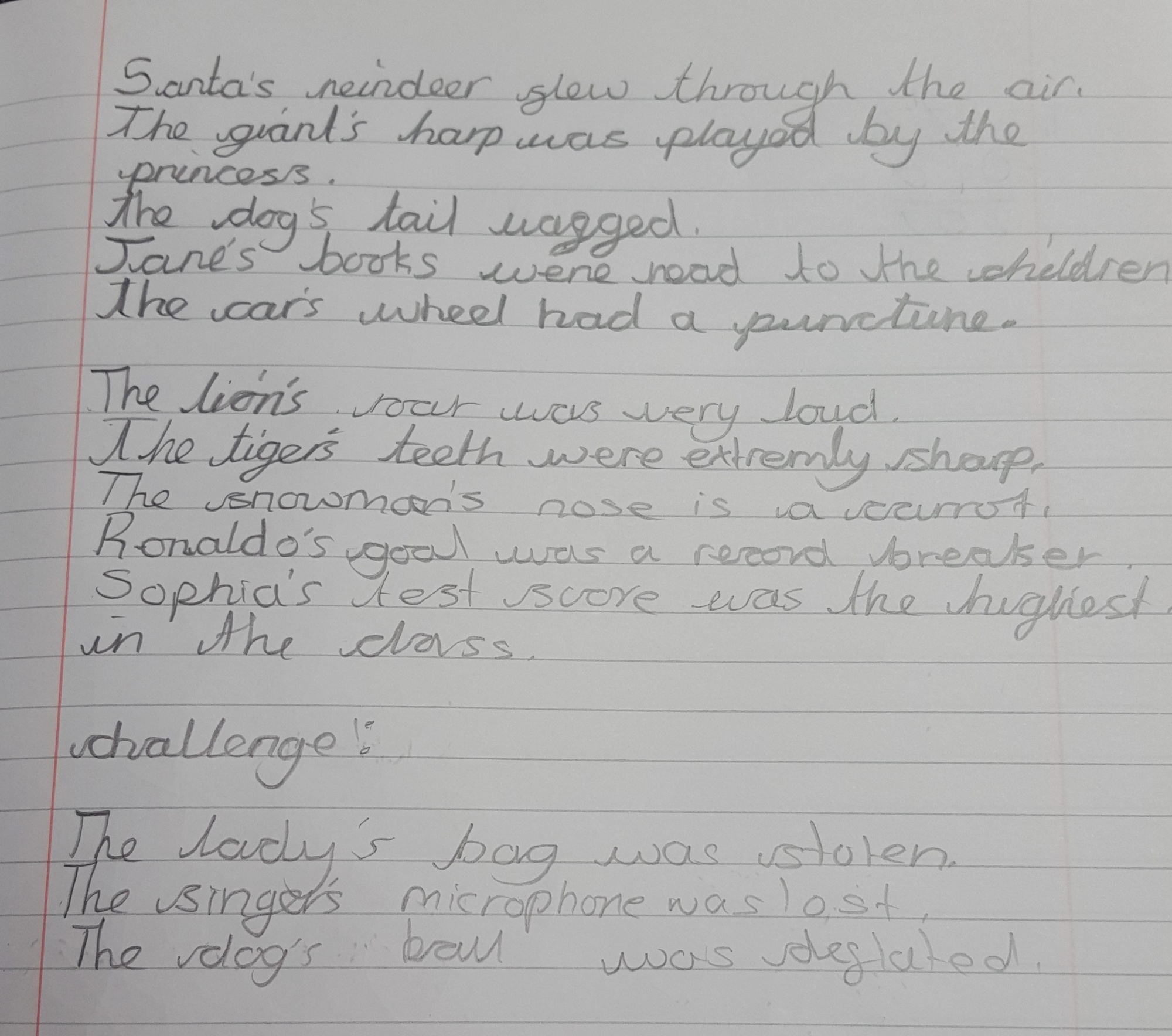 Evie C's Maths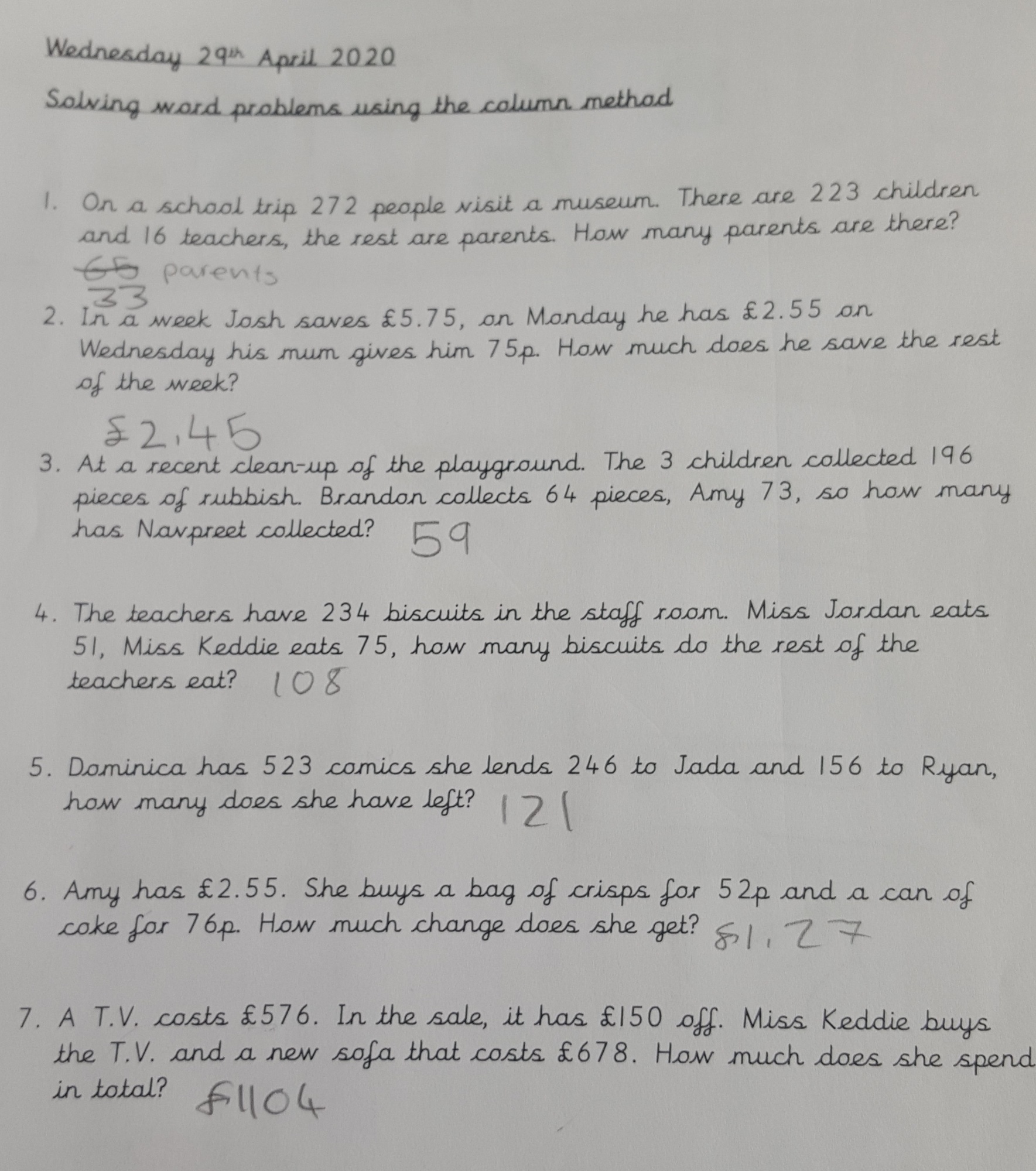 Gabriel's Maths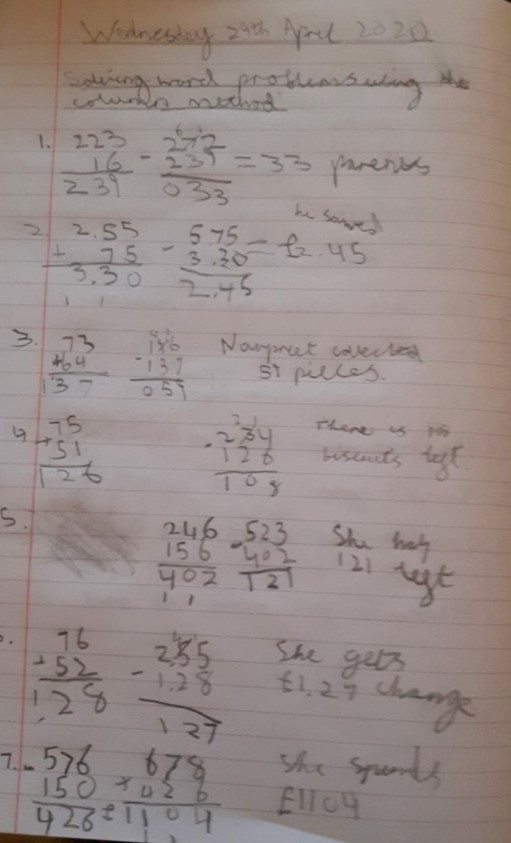 Tom's Setting Description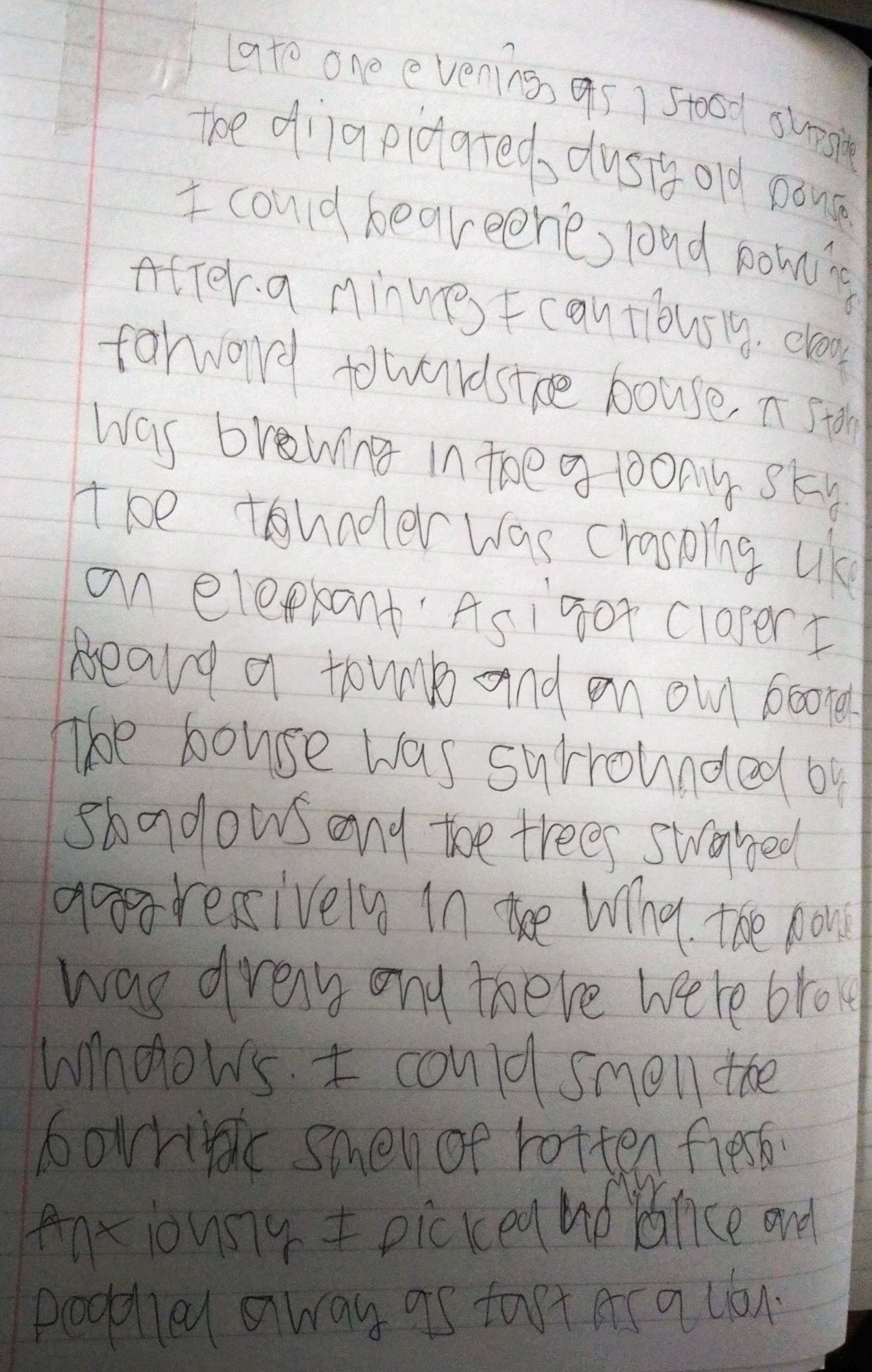 Jack's Setting Description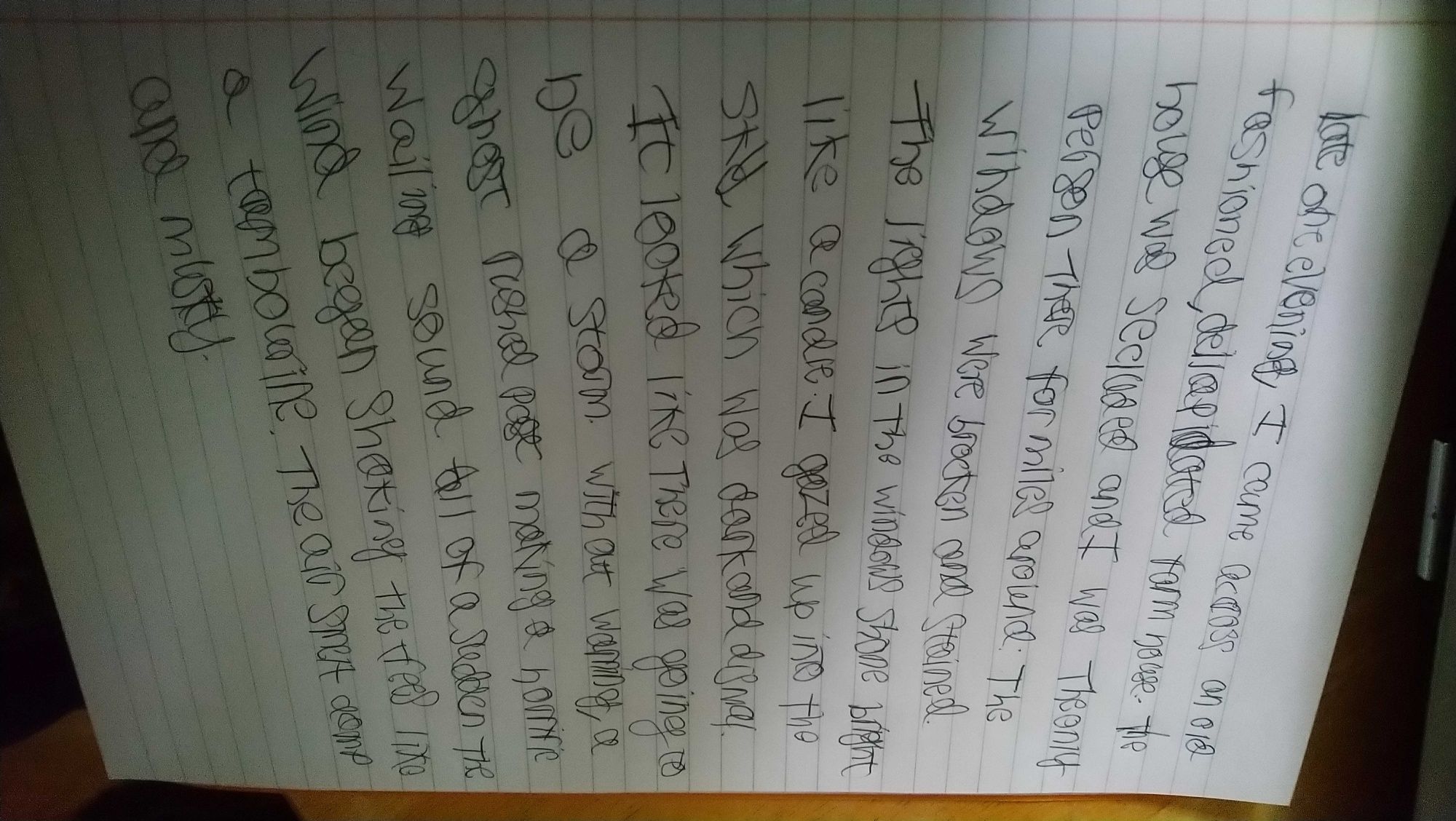 Finley's RE and SPaG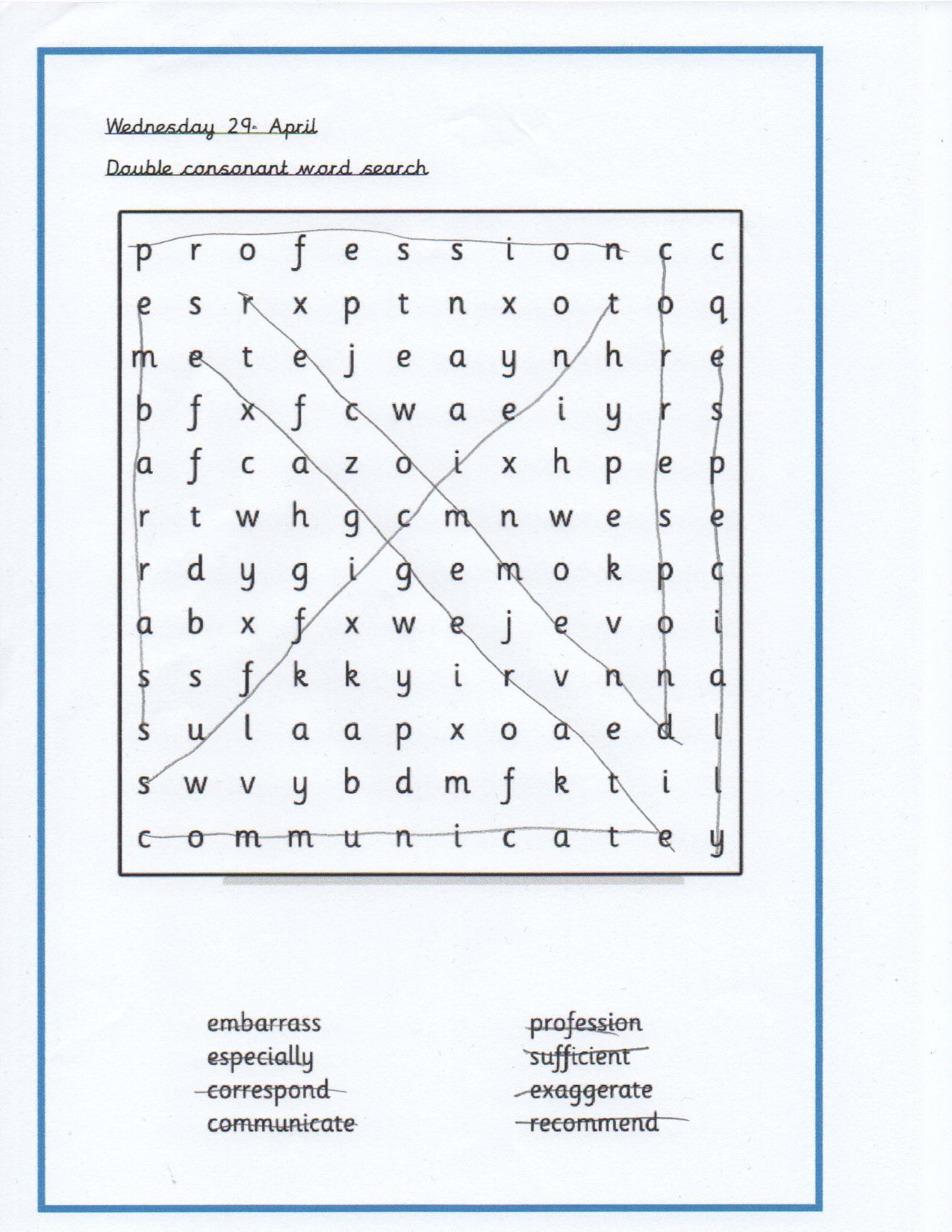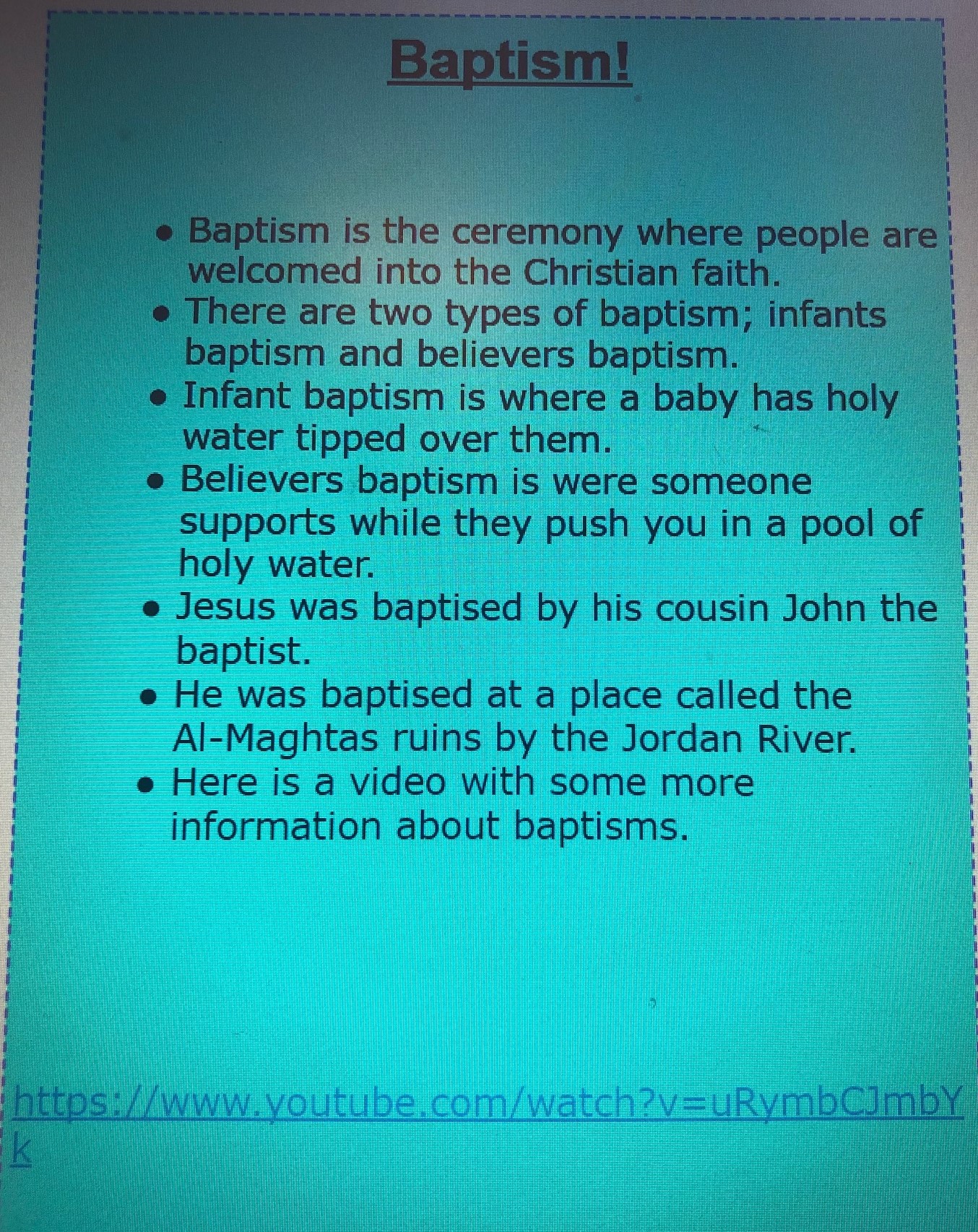 Abi's Maths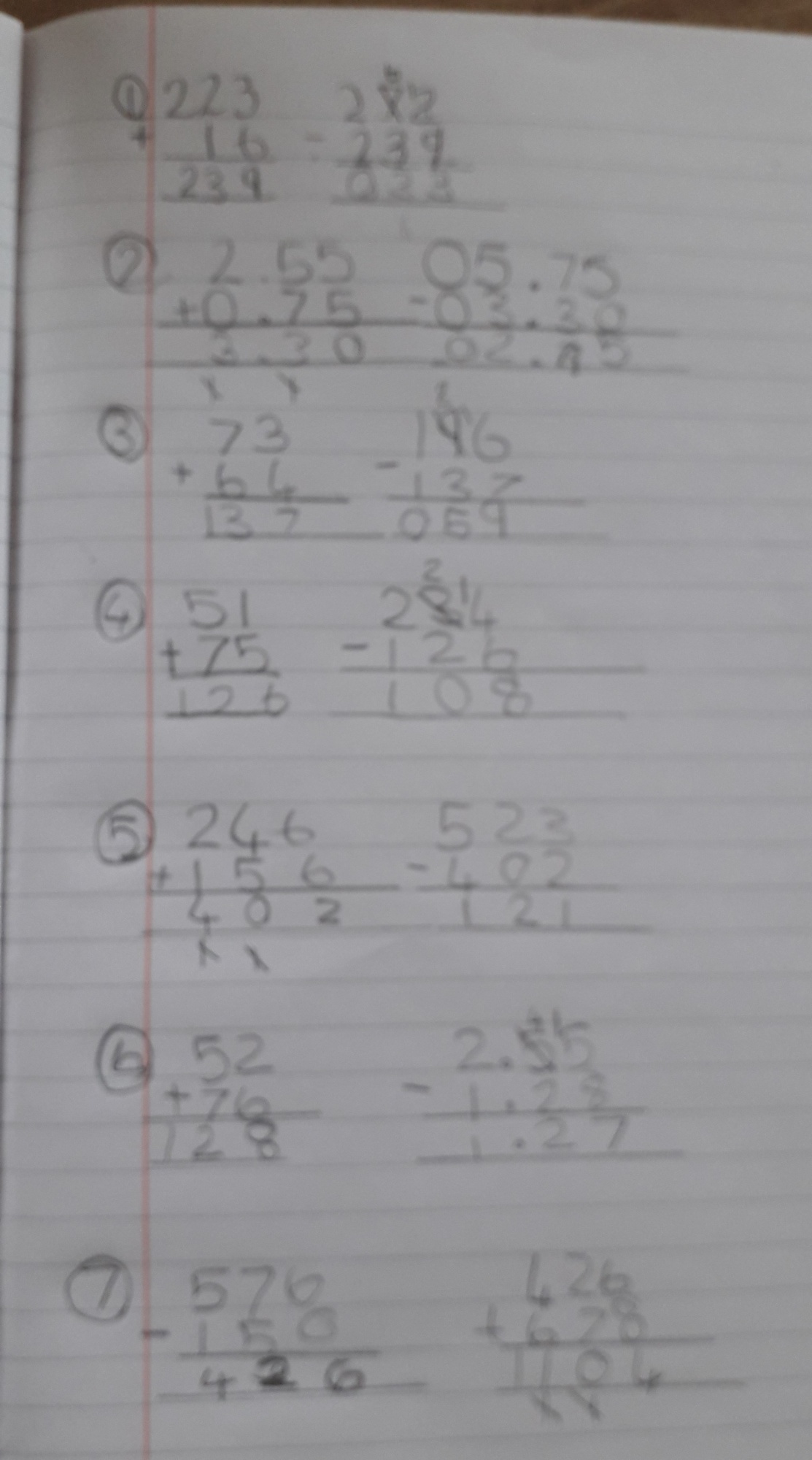 Freddie's Maths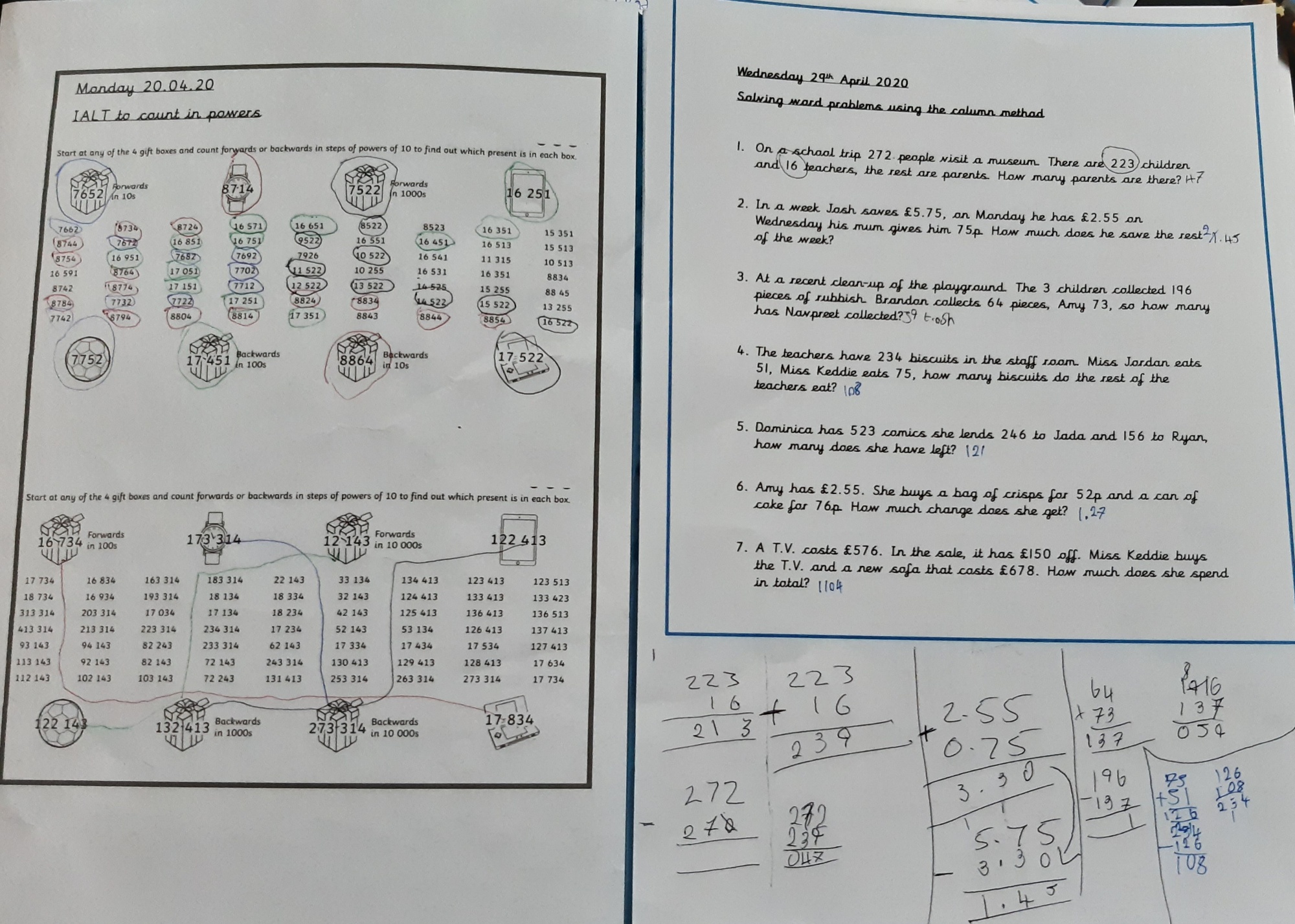 Home learning Thursday 30th April 2020
Wellbeing activity - Take a moment to write in your wellbeing journal, like we do at school. Answer these questions: How do you feel today? What are you looking forward to doing when we can all return to school?
English - We would like you to write a diary entry about you walking into an abandoned museum. Remember to write in the first person and challenge yourself by getting a rhetorical question in there!
Maths - We would like you to use your adding and subtraction skills to complete the mosaic. You will be adding and subtraction decimals so remember to line up your decimal points like buttons on a shirt when adding or subtracting using the column method. If you can not print out this document, please answer the calculations instead.
SPaG - Use your punctuation skills to correct Mrs Bax's mistakes in this document! Answers are also here ( do not cheat!)
RE / Afternoon activities - Continued from yesterday. This week is our RE week. The theme for this is Christianity and we would like you to complete activities based on the stories and parables. Open both documents and choose the activity you prefer!
Other activities to keep you busy!
Watch KT Tunstall perform tonight at The Royal Albert Hall at 8:15pm click here https://www.royalalberthall.com/tickets/events/2020/royal-albert-home-kt-tunstall/
Stay at Home Science Festival with Professor Brian Cox, Robin Ince and guests - https://www.youtube.com/channel/UC6JQx_K7LKktuQXruCwgbFg
Computer programming - https://scratch.mit.edu/
Hour of Code - https://hourofcode.com/uk
Topmarks (great for maths games) - https://www.topmarks.co.uk/
Times Table Rock Stars - https://ttrockstars.com/