W/B 30th November 2020 Year 5 Blog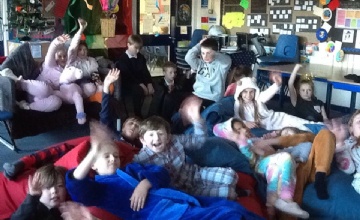 Food Bank Donations:
Thank you to every family that has donated some dried foods towards our food bank donations. For every donation we receive your child will be given a chance to win either Rainbow Bear or Mr Chilton (a name will be drawn). Our food bank donation closes on Wednesday.
Christmas Parties:
Year 5's Christmas party will be held on Thursday 7th December. Children are invited to bring in their own party food that they cannot share with others. Children can wear party clothes that are also suitable to play in outside. Each class will have their own party in their own class.
Home learning:
We would like the children log on to TTRS to practice their times tables. There is an expectation that the children log on and play TTRS at home every week – please encourage your child to do this multiple times. The children know their usernames and passwords. www.ttrs.com
We would also like the children to create a piece of art that includes a times table that they find challenging. For example, they could create a picture or PowerPoint that includes the 6 times table! The children's home learning will be shared with their class on the following Friday as normal.
Last week of school:
Mrs Rowland-Hill and Mr C will remain teaching in their class at Chilton to children coming in to school. Mr Abel will be teaching the children that are learning from home. You will need to have your TEAMS access information to access Mr Abel's lessons. These times and details have been sent to the families that are staying home to learn as each class has a different time. If you have not received this information, please contact the school office.
English Next Week:
The children will finish their whole class text this week with a screen play script that they will plan and write. The children will then finish with a performance of their script!
Maths Next Week:
Next week the children will be learning how to measure composite rectilinear shapes.
Topic Next Week:
The children will continue to learn about space by understanding that Earth is a sphere and how gravity affects it! They will also create their own human solar system that will help them understanding how large each planet is!
Have a wonderful weekend and please stay safe.
Mr C – gary.clifford@chiltonprimary.co.uk
Mr Abel – tom.abel@chiltonprimary.co.uk
Mrs Rowland-Hill – helen.rowland-hill@chiltonprimary.co.uk