W/B 08th January 2021 Weekly Year 5 Blog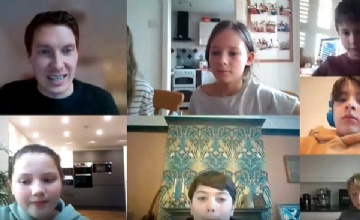 What a week! As parents, children and teachers rallied together, Year 5 have responded tremendously to a tough week of change. With lessons moving online, we want to say a massive thank you to everyone for making a challenging transition as smooth and painless as possible. Thank you!
ENGLISH:
In English this week, we have studied a variety of myths from Ancient Greece and even created our very own comic strip all about Pandora and Prometheus. Considering the upheaval and change, the quality of work we have seen this week across Year 5 is truly remarkable. Keep up the good work. Next week, we will be starting our new book for the term – Odysseus. Children will be using their detective skills as they attempt to predict the course of the story. Before we meet some of the mythical beasts Odysseus encounters, we will be creating one of our very own that would fit right at home in the Greek world.
MATHS:
In Maths this week, we have been further developing our addition and subtraction skills as we wrapped our heads around decimals and money. Next week, we begin to investigate prime, squared and cubed numbers in addition to recalling factors of numbers.
In our afternoon sessions this week, we have been learning all about Judaism. From Bat Mitzvah to Sabbath, we have developed a rich understanding of important features of the Jewish community. It's all change next week, as we start our topic, 'Myths and Mortals'. We will begin to learn about Ancient Greece and two of its mightiest cities; Sparta and Athens.
We would like to end this newsletter as we began, by saying a huge thank you for all your support and help over the last week. Without your support, online learning would be a near impossible task. Thank you.
Please know that if there is anything the school can do to help during this time, do hesitate to contact your class teacher. We are here to support you.
The Year 5 team x