Friday 22nd October 2021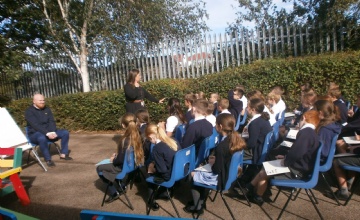 What a wonderful week Year 5 have had to end Term 1. Well done to all those children who completed their MyMaths task.
Maths
In Maths this week, we have continued studying Time, focusing on conversions between different units of time. We made reference cards with methods to remind us how many days are in each month before solving a range of time conversion problems. We also interpreted and solved problems based on timetables.
English
This week, we completed a newspaper report about the rescue of the Endurance crew but focused on bias. We used what we had studied in the previous weeks to write a report that either showed Shackleton as a hero or as a failure. We also focused on using direct and reported speech in our writing. We then concluded our court case, giving evidence as reporters and finding Shackleton......
Next term, we will be starting an exciting new book!
RE
In the afternoons, we completed our first RE unit of the year, 'Where does the Christian Bible come from?' We looked the make up of the Bible, the history, translations and how stories were passed down and the different types of writing (such a songs, parables, laws) that are included in the Bible.
Home Reading
Thank you for your continued support with your child's reading. Please remember to encourage your child to take their Accelerated Reader quiz when they have finished their book. You can access our AR site here https://ukhosted34.renlearn.co.uk/1892319/ or through our school website Home Page. Your child's username is the first three letters of their first name followed by their surname. The password is chilton (lowercase) for example: Username for Joe Smith would be JoeSmith and the password is chilton
Home Learning
There will be no formal home learning set for Half Term (enjoy your week!) but children are encouraged to continue reading and TTRSing.
If you have any questions or need to contact us, please do not hesitate to email us (tom.abel@chiltonprimary.co.uk, alicia.hayzelden@chiltonprimary.co.uk, carol.isaac@chiltonprimary.co.uk).
Have a lovely week!
The Year Five Team x