Friday 10th December 2021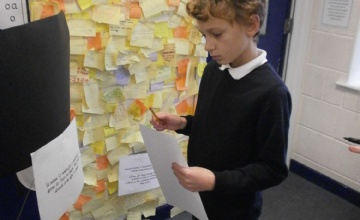 Year 5 have had another wonderful week and have found themselves getting into the Christmas spirit. After completing their festive hoops, they are now working on filming some festive videos that will be released soon!
English
In English this week, we have started a two-week narrative to end the term. Loosely based on 'The Jamie Drake Equation', most of our stories follow a school child who discover an alien. They then need to either help or defeat this alien. The children focused on description early in the week before weaving in direct speech (which was our PAG focus). We have continued reading 'The Jamie Drake Equation' and are approaching the exacting finale, which we will read next week! In our writing, we will be continuing and finishing our stories, focusing on weaving action into our writing.
Maths
In Maths this week, we have been looking at solving different problems relating to measurement of length, mass and volume. We broke down what 'RUCSAC' meant and used that to help us solve problems. We also presented these problems in the Bar Model to help us understand problems before solving them. Next week, we will be looking at data, specifically with Time Graphs.
Afternoons
As well as working on our festive hoops and videos, we have been continuing our 'Stargazers' topic. We live tweeted the moon landings, made scale drawings of the solar system and compared the Sun, Earth and the Moon. Next week, we will finish our 'Stargazers' topic.
Home Learning
For this week's home learning, there is a MyMaths task set on Volume and Capacity.
Messages:
Information regarding Christmas Parties has been sent out
Christmas jumper and Christmas dinner day is on the 17th, School will end at 2pm.
Have a lovely weekend!
The Year 5 team x