Friday 21st January 2021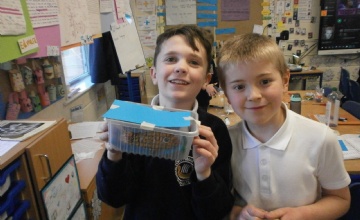 Year 5 have had another wonderful weekend. Here's what we've been up to:
English
In English this week, We have been reading Alfred Noyes' poem 'The Highwayman', seeing him declare his love for Bess with Tim the Ostler listening on. What will Tim do with what he has heard. Based on the role of a highwayman, our English writing focused on a balance argument looking at whether stealing is always wrong or if sometimes it can be justifiable. Next week, we wil finish reading 'The Highwayman' and will put the Highwayman himself on trial, persuading our readers whether he deserved his death.
Maths
In Maths this week, we have looked at number of different topics relating to multiplication. We studied prime and composite numbers, squared and cubed numbers and common factors before competing an investigation into factors. Next week, we will be adding and subtracting fractions.
Topic
In the afternoons this week, we have started our brand new project 'Material World'. Our entry point was to design and create a sculpture using recycled plastics (thank you to all parents who sent recycling in!) that gave the message of 'Reduce, Reuse, Recycle'. We also studied a number of artists who use similar materials in their artwork. We compared them and spoke about what we liked about their art before researching them further and creating a fact file. Next week, we will begin the Design Technology part of our topic, designing and planning our 'squares'. More will be revealed next week!
Home Learning
A MyMaths task on Factors and Primes has been set to complete next week. Children can also write a descriptive piece of the Highwayman focusing on including figurative language.
Messages:
- PE will continue to be on a WEDNESDAY. Children should come to school in correct PE kit.
- SPORTS PROJECT will continue to be on a TUESDAY. Children should come to school in normal uniform with trainers.
-Please could children continue to quiz on AR as frequently as possible as well as playing TTRS regularly too. Children should be completing a minimum of 4 reads a week at home.
- Number Day is Friday February 4th. Children are invited to dress up as rockstars, superheroes or anything number themed.
Have a great weekend!
The Year 5 team x