Friday 6th May 2022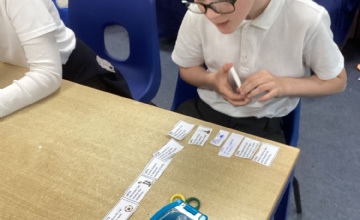 Year 5 have enjoyed another wonderful week. Here is what we have been up to:
English
In English this week, we have continued studying Street Child, reading Jim's successful escape from the workhouse and how he was the able to track down Rosie. During our English lessons, we researched Victorian England and wrote a non-chronological report using a formal tone but challenging ourselves to switch to informal for the 'Did you know?' section. Next week, we will be writing persuasively.
Maths
In Maths this week, we have been looking at multiplication and division. We multiplied decimal numbers by 10, 100 and 100 before studying the commutative, associative and distributive laws of multiplication. We then moved on to division and used the distributive law to partition numbers to make them much easier to divide mentally. Finally, we looked at how to interpret remainders in different ways. Next week, we will be looking at fractions, decimals and percentages.
Afternoons
In our afternoons this week, we have started out new Topic 'Oh we do like to be beside the seaside'. We started by comparing Victorian and modern day Ramsgate. We were particularly interested to see that there was formerly a train station right on the beach! We then completed a timeline of important Victorian events. We also continued to work on our 'Be Here, Be You, Belong' PSHE unit.
Home Learning
For home learning this week, two MyMaths tasks have been set. One on Multiplying decimals by 10, 100 and 1000 and one on the Distributive law. These are due 15/5/22. Please see your class teacher if you require MyMaths log in details.
Messages:
- PE will be on Friday. Please could you ensure that children come to school in the correct kit (navy/black bottoms, white t shirt, navy/black jumper/hoody, trainers).
- Our extra PE (Sports Project) day will be on a Wednesday. On Wednesdays, please can children wear full school uniform but with trainers.
- Please can children continue to practise times tables on TTRS and reading (completing quizzes on AR when texts are finished) at least four times a week.
Have a wonderful weekend!
The Year 5 team x