Friday 24th June 2022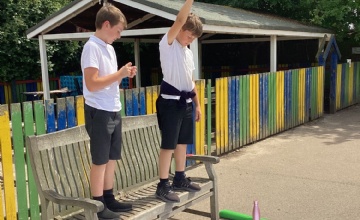 What a fantastic week Year 5 have had!
Maths
In maths this week we have been learning how to measure and calculate the perimeter of rectilinear composite shapes, including those with missing lengths. Year 5 have worked incredibly hard on this, and we are so proud of their resilience when adding decimals and converting between units of measure. On Friday, children from Year 6 came and taught us their own maths lessons that they had planned and designed themselves.
Next week, we will be focussing on converting between imperial and metric measurements.
English
In English, we have continued to read our new class text, Running on Empty. We then used our English lessons to plan and write our own persuasive letters to persuade AJ to take action regarding his parents' water bill. Year 5 worked so hard and used a range of persuasive devices within their writing, such as rhetorical questions and modal verbs.
Next week, we will be writing our own poems based on the text.
Topic
In the afternoon, we have started our very exciting new topic, Forces and Fairground. Our entry point on Tuesday was a competition to design the best protective cases for an egg to be dropped from a height. On Wednesday, we created artwork using a marbling technique to investigate whether dye mixed with water would create a more vibrant picture than dye without water. On Thursday, we created planned our investigation into the effects of surface area on a parachute against the speed that it falls. We wrote predictions and labelled our independent, dependent and control variables. Next week, we will be conducting this investigation ourselves and writing conclusions.
Love to Learn
This weeks love to learn is to research a force of your choice (gravity, air resistance, water resistance, friction) and present this information in any way that you wish. If you would like to create a video showing examples, or a presentation, please email these to your class teachers.
Mr Abel/Miss Hayzelden's Spellings: exaggerating, velodrome, embarrassing, imagining, gradually, gymnastics, emergency, concentrate
Miss Isaac's Spellings: stew, newts, dew, earful, medical, sniggered, brewed, blanked, wrecked
Information
Sports Project is on a Wednesday. Please could children come to school in uniform with trainers on this day.

PE is on a Friday. Please could children continue to come to school in the correct PE kit (navy/black hoody, plain white t-shirt, navy/black shorts/tracksuit bottoms).

Please continue to read at home and test on AR. Children should be reading at least 4 times a week if possible.

As weather is changing, please can children bring water bottles into school with water (not squash) to drink in class.
Have a lovely weekend,
The Year 5 Team