Friday 8th July 2022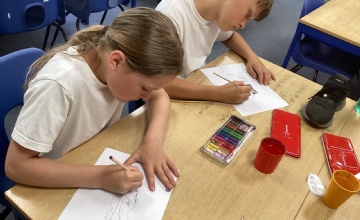 What a fantastic week Year 5 have had!
Maths
In Maths, we have been solving problems using the four operations and money. We were then able to apply this knowledge to design our dream bedroom with a budget of £1600 using the Argos catalogue to find and research the best prices for the items we wanted.
Next week, we will continue to use the four operations to solve problems.
English
In English, we have continued to write poems, this week focussing on using poetic devices within our writing. This has included assonance, allusion, allegory, repetition and rhyme. The children have really impressed us with their word choices when writing a poem entitled "Trainers" based on our book "Running on Empty".
Next week, we will be finishing our book and writing around this.
Afternoon Learning
In the afternoons this week, we have continued to learn about forces. On Monday, we investigated the force of friction, and then moved onto to investigate water resistance. We created different boats out of Plasticine to see if we could balance the force of gravity and upthrust to make our boats float.
Next week, we will be designing and making our own fairground rides using pulleys and cogs as part of the Design and Technology theme of our topic.
Love to Learn
Thank you to all of those that completed the MyMaths home learning last week. This week, we would like you to write a poem titled "Our House", focussing on writing about who lives there, what happens and what is there. You should try and include a range of poetic devices within this.
Important Messages
Wednesday morning is sports day! Children are able to come to school wearing PE clothes and a brightly coloured top.

Friday is PE. Please could children come to school in their school PE kit.

On Friday, please could children bring a carrier bag to school to bring home their work.
Have a lovely weekend,
The Year 5 Team x