Year 5 Visit Kent Renewable Energy - Biomass Plant At Discovery Park (13/12/18)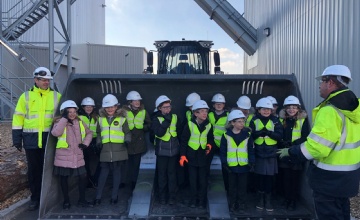 Year 5 had a great day visiting the Biomass plant at Discovery Park learning how electricity is generated for their homes.
Year 5 were lucky enough to be invited to be the first school to visit the newly opened
Kent Renewable Energies biomass plant based at Discovery Park, Sandwich on Thursday 13th December, as part of their exit point to this term's topic 'Full Power'.
The Sandwich, Kent biomass CHP supplies heat and electricity to Discovery Park. The plants fuel is sourced from traditionally managed coppiced woodlands, stimulating the local forestry industry and improving traditionally managed forests.
It makes enough power to provide low cost carbon electricity and steam for Discovery Park tenants as well as enough to power 40,000 local homes. The children followed the journey of the logs from delivery to the furnace to the production of steam, which powers turbines.
The children had a great morning; they particularly enjoyed wearing the safety equipment including hard hats, safety goggles and gloves. Many things amazed them including the fact that the turbines spin faster than the speed of sounds at 97 revolutions per second.They were also shocked to find out that the plant provides electricity to all of Discovery Park and over 50,000 homes.