Weekly News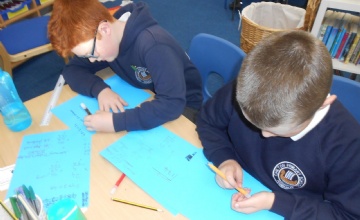 This week, the children have been solving problems based on the four operations. By reading clues written within questions, like certain vocabulary or putting word problems into context, we can deduce what the operations (multiply, divide, add or subtract) are. We have been working on being able to explain, justify and prove ourselves, using an efficient method for support.
In English this week, we started our new text 'Skellig'. We commented on the way the author has used suspense to draw the reader in and their (lack of) explanation makes the reader want to read on. So far, Michael and his family have moved into an abandoned house. At the side of the house, a derelict garage is the home of a mysterious creature, which squeaks at Michael to leave him alone. The children have been writing powerful setting descriptions, including figurative writing, to describe the dingy garage.
Topic has been very exciting as the children have discussed the big questions surrounding space, such as 'is there sound in space?' and 'how big is the Sun?' We thoroughly enjoyed the space fact files that were brought in as we learnt so much! Well done to everyone who completed their Love to Learn.
For Love to Learn this week, we would like you to create an image of what you think the mysterious creature in Michael's garage looks like, using your knowledge of the text to help you. You can do this in pencil, pen, paint... any media you want! Words and phrases from the text to help you:
'I thought he was dead'
'...his head tipped back against the wall'
'He was covered in dust and webs like everything else...'
'...his face was thin and pale'
'Dead bluebottles were scattered on his hair and shoulders'
'his white face and black suit'
We would also like to remind you to please sign up for parent consultations if you haven't already. If you would like to rearrange a time, please speak with your child's class teacher. Because we have an open door approach, we will happily rearrange a time that best suits you if you will struggle with the times next week (Wednesday and Thursday).