Weekly News 07.02.20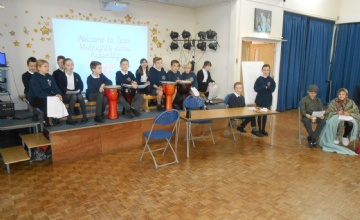 This week's class assembly was the turn of Team Midnight! Thank you to all the parents who were able to come to support. The children enjoyed working on it and performing to the school, showing what they have learnt in Year 6.
On Friday, the school celebrated Number Day, where we dressed up as Times Tables Rockstar avatars! After a tense yet fun Mastermind assembly, our learning revolved around active maths lessons. In Year 6, the children planned a lesson around a particular skill they had learnt this term (for examples, multiplying fractions, finding the radius of a circle, identifying 3D shapes) and then taught it to another group in a different year group.
In English this week, the children wrote narratives based on the class text, focussing on creating mood and atmosphere.
Next Tuesday, we will be taking a walk in the local area to support our topic work. On this day, please bring suitable footwear and a coat.
For Love to Learn this week, please log on to www.mymaths.co.uk as there is a task for you.
Please remember to be reading at least 10 minutes a day too!