Farewell Year 6!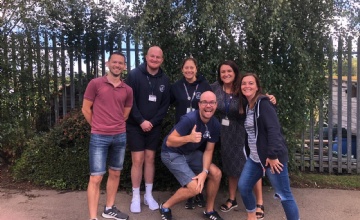 What a wonderful end to year 6! Thank you to everyone who came to the Year 6 Graduation today. We will be emailing your parents a link to a video of the day.
Click here to view the Year 6 Leavers' video https://vimeo.com/437093366 the password is our name.
Here is a message from Mr McAuley.
to Hello everyone, Mr McAuley here with exciting news about the Lock-Down Writing Competition! It is the moment you have all be waiting for, who will be receiving the prizes for their efforts?
Firstly, I want to say a huge "thank you" to everyone who got involved and wrote a poem on the theme 'Fauna'. I have never received so many entries to a writing competition before and the quality of the writing was truly exceptional; they really made me very proud to be a teacher here at Chilton. I would also like to thank all the parents who supported their child with this project, your support and kind messages were greatly appreciated.
Therefore, Martyn and I had an incredibly difficult task deciding who will be crowned winners. I'll start by announcing the 'shortlist' for each Keystage. These poems really stood out and any one of them could have won. Martyn and I spent a lot of time deliberating over every one. Each of these poems will receive a small prize when you return in September.
KS1 – Shortlist
Sophie Furiel
Evie Beaumont
Jessica Kirkaldie
Freddie Elliot
Ned Clements
KS2 – Shortlist
Finn Gardner
Nadia Curtis
Finley Munsen
Rose and Emily Young
Evie Field
Bradley Kirkaldie
Martyn Harvey wanted me express his thanks for all of these entries, he felt all of these poems were of such high quality that they could be dropped straight into his new book 'Bugs, Beasts and Biscuits'. All of these children will receive a small prize in September when you return.
But now to announce the winners and runners-up.
KS1
Winner – Ned Clements.
1st runner-up – Sophie Furiel.
2nd runner-up – Evie Beaumont.
Well done to you three!
KS2
Winner – Finn Gardner
1st runner-up – Evie Field
2nd runner-up – Finley Munsen
Well done to you three!
Thank you to everybody who entered and a really huge well done to those winners and runners-up above. Prizes will be distributed in September when you return.
Thank you for all your hard work!
Mr McAuley and Martyn Harvey.
Please enter some content for your blog post here.