Friday 2nd October 2020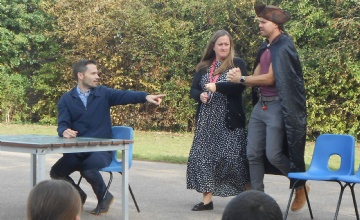 Rain rain go away! Come again another day! Even though we have had some soggy days this week, we have loved our learning!
Using the story line of The Highwayman as inspiration, we have attended a session in court to question the soldier accused of murder. We asked him probing questions and then used our note-making skills to write down what he said. We also had the opportunity to question the inn landlord and his wife to find out more about what happened on the fateful night of Bess and the Highwayman's death. At the end of the week, we then wrote in role as Tim the ostler. We explored his thoughts and feelings and also discussed how his version of events may not be reliable. In Maths, we used a game to help us understand what happens when we add and subtract negative and positive numbers together. We also learned about Roman numerals and rehearsed how to read and write them.
Next week, we are going to be concluding the poem of The Highwayman by presenting both sides of the case of the soldier being a murderer. We will consider all the characters and their involvement and then present this in a letter. In Maths, we will be rehearsing adding and subtracting skills and then using this to solve problems. We will also be learning about how estimating can be really useful when checking the accuracy of our calculating.
Home learning: please continue to read and also rehearse your timetables.
Messages:
-as the weather continues to turn towards autumn and winter, please remember to bring a coat every day to school. This includes PE and running club days.
-please remember to bring BOTH your book and your reading record to school EVERY DAY. Staff often read with children so both are needed in school every day.