09.10.20 Weekly Learning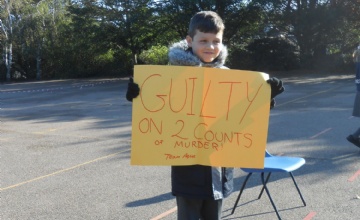 Was the soldier guilty or not of one or more counts of murder? The children have written a persuasive yet balanced argument to the Judge to present the case for the King's Man. We used additional and oppositional conjunctions to link our arguments, which culminated in a Year group debate: After being presented with all the evidence and hearing from the witnesses, did we think the soldier was guilty or not? As you can see from the photo, it was a resounding GUILTY! The soldier was brought back to trial and punished in the gallows. It is just a shame that Mr. McAuley was nowhere to be seen...
Next week, we will be starting a new unit called The Piano. At this stage, we do not want to give too much away but the children will be writing an emotional narrative based on this unit.
In Maths, we have been solving problems for addition and subtraction using written methods to support our learning. Next week, we will be multiplying and dividing by 10, 100 and 1000 using place value to help us and then apply our learning through problem solving.
Love to Learn is to continue to practise your times tables (can you beat your score in next week's Quiz?) and to read for at least ten minutes daily.
Have a lovely weekend!