14th May 2021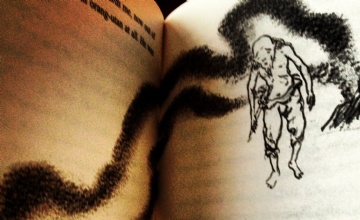 Welcome to this week's Year 6 blog!
Gosh! We have had a busy week this week. The children are firing on all cylinders at the moment and we are really impressed with their efforts in class. In English, we have been learning how to write flashbacks and also describing a new character: Kensuke (see blog picture). We have also been learning about the properties of circles and beginning to remind ourselves of what we know about co-ordinates. We have also had a music lesson to learning about rhythms in drumming, taken part in two PE sessions and some of us have also attended running club! Well done to Year 6 pupils for a tremendous week.
Next week, we will be trying to write in role to show opposing points of view on a particular scenario in our class text Kensuke's Kingdom. We will also be refining our skills of writing suspenseful narratives. In Maths, we will be learning about how shapes can be reflected, translated and also solving shape problems using co-ordinates. On Monday afternoon, we will be going to the beach to collect natural materials for a painting lesson. This is linked to our book in English. We will also be learning about the history of Japan and particular conflicts that has affected the present day.
Home Learning tasks:
English: please decide on a character from your current reading book or a book you know. Write a character description for this character. Think of our steps to success for when we wrote about Kensuke this week. If you were Miss Isaac's group on Friday in English, you could include your description within a different text type, like we did in our lesson.
Maths: play battleships! You can use a board game version you have at home. You could make your own version of the game on paper or with chalk on the ground. You could play an online version like this one: https://www.battleshiponline.org/
Messages!
1. please make sure you wear sensible shoes into school on Monday for our walk to the beach. You also need to bring a rucksack to carry your lunch and drink in. You also need a plastic carrier bag to bring your natural materials back to school in. In addition, please bring a coat with you as we will be going even if it is light rain!
Have a lovely weekend! Let's hope for sunshine rather than rain...
From the Year 6 Team!