Weekly Learning 10.09.21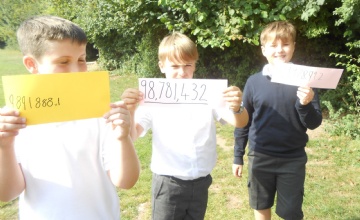 Reminder: Could children please remember to bring in a cardboard box on Monday. It will be used as part of their English learning.
It has been lovely to get back into the swing of things with our first, full week back. The children have settled back in wonderfully and have shown that they are ready to challenge themselves with their learning.
This week, in English, we have continued to read our class text, 'Way Home'. The children started the week by reflecting on the thoughts and feelings of the main character and writing in role using emotive language. On Tuesday, the children reflected on the differences and similarities between cities and created their own cityscape art work. Later in the week, the children wrote and performed poems based on their understanding of the characteristics of a city.
In maths, the children continued to work on place value. We started the week by ordering and comparing and moved on to rounding numbers. At the end of the week, the children reflected their understanding of positive and negative numbers.
In our afternoon sessions, we based our PSHE learning on a book called 'Swimmy' by Leo Lionni. Focusing on themes of team-work, diversity and courage, the children created their own sea creature which could feature in the book and printed their designs using a range of materials. They then worked on cartoon strips, innovating their own stories based on the themes covered.
Love to Learn
This week, we would like the children to think of why they would make an effective House Captain. The children need to consider what impact they could have as a House Captain and what qualities they have that would suit the role. We would like the children to create a presentation, this could be a speech or a PowerPoint or any other ideas the children have-be creative! This should be completed by Thursday 16th September as the children will be presenting on this day to the rest of the year group on why they should be considered for a House Captain.
Updates from the Year 6 Team
The children have now been assessed in their reading and should have chosen a book to read based on their score. You can find your child's ZPD in their reading record. It indicates what books they can read. More information will be provided about this soon by Mrs Rowland-Hill
Reminders from the Year 6 team
Extra PE on Tuesdays for the Sports Project where children need to wear trainers but still come to school in their school uniforms.
PE on Fridays where children come into school in their PE kits.
Enjoy the weekend!