Weekly learning 22.10.21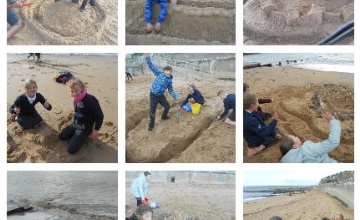 The children have loved learning about the history of Britain, for which they studied life from the Celts to the Vikings then Anglo-Saxons and finally the Normans with the Battle of Hastings in 1066. On Thursday, we visited the beach and made Norman-style Motte and Bailey sandcastles! We loved it! Eventually, the tide came in and washed them all away (we were unable to stop it - just like Cnut!).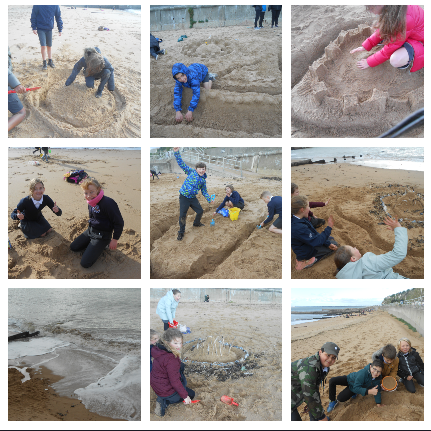 In English this week, we have completed our Floodland text and undertook an AR Quiz about it. Remember to do an AR Quiz after each school book you read as it will boost your score and improve your love of learning. If you forget how to log on, there is a tab on this Chilton website. With Floodland, we discussed what could have caused the sea to rise in the story and decided that it must have been due to Climate Change. From this, we researched the topic and wrote non-chronological reports on the subject.
In Maths, we solved problems based on division, interpreting any remainders. Towards the end of the week, we applied our learning of the 4 operations by reading word problems and choosing which operation to use.
Love to Learn
We hope you have a wonderful half-term break and come back fully rested for term 2. There is a mymaths task set for you if you log on to www.mymaths.co.uk and we hope you find time within your week off to continue to enjoy your reading. Remember to AR quiz after completing a text.
Messages
As part of our Accelerated Reader program, we are now able to offer children in years 2 - 6 access to our MyOn online reading environment. MyON gives children access to thousands of online books that are tailored to their own Accelerated Reading level. Children are able to access MyOn reading at home - perfect for reading at home during half term. Many books also offer audio.
Children can access MyOn by clicking here https://www.myon.co.uk/login/index.html or access it through our Chilton Website.
Red Romans will have a non-uniform day on the first day back of term 2 (Tuesday 2nd November). Monday 1st November will be a staff INSET training day.
On Friday 5th November, we have a Dance Diwali workshop. It will take place in the school hall and the timings are as follows:
09.20-10.00 Ultramarine and 1/2 of Peacock
10.05 - 10.45 Azure and 1/2 of Peacock.
Children must wear PE kit on this day (it will be PE day as well anyway).
There is TTRS battle available for children to enjoy and challenge themselves.
Enjoy the half-term break!