W/E 13th May 2022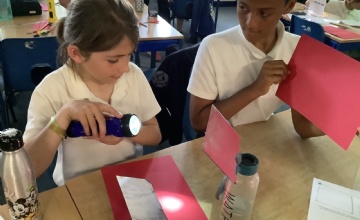 We are so proud of the all the children year 6 this week. They have shown great resilience and determination to complete the first SATS assessments since pre Covid times. They approached the week with a mature attitude and enjoyed a fun morning at the park today along with lollipops as a treat in the glorious sunshine.
Home Learning
We would like the children to create a resource that will help them remember the properties of 2D and 3D shapes. This can be a poster of notes that they can use in class. We would also like them to research what an idiom is and come up with five idioms that they can share with the class in their writing. We will be discussing idioms every day next week.
Notices
The children will come home today with a slip of paper detailing the sizes for the leaver's t-shirts. Please can you complete the form and return it MONDAY 16th MAY. If the slips are not returned Monday, teachers will choose the size for you, as we need to order them.
Children should continue to read for ten minutes every evening and bring their reading records in to be signed.
Learning this week and next...
Now, as we head towards the final weeks of term 5 the children will be back to the usual timetable and curriculum learning.
In Maths, we will be looking at 2D and 3D shapes – identifying properties, drawing them and making nets for 3D shapes.
In English, we will continue to read The London Eye Mystery and use it to inspire our writing. This week we will be writing in role as one of the characters after discovering Salim is missing. We will also look at idioms, which feature a lot throughout the text.
In Topic next week the children will learn about circuits (symbols, simple and series). The children will also spend time exploring and understanding the dangers of electricity in the world will live in. They will use their electrical knowledge to make a circuit that includes a light and or an alarm.