Weekly News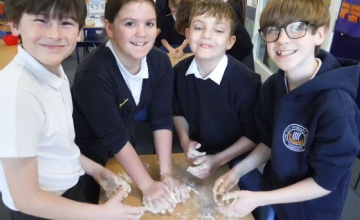 For an introduction to percentage, we had fun making PIZZAS! We measured out the ingredients by finding the percentage of the amounts provided to make delicious-looking pizzas. This was a build up to our pizza party, which we had on Friday afternoon. Our pizzas came out really well and we had the chance to enjoy them as a result of achieving 30 pizza points in 10 days for our hard work.
After our tests at the beginning of the week, we wrote (bias) newspapers for the family in Kensuke's Kingdom, describing the events on the day that they set sail around the world.
In Maths, we have been making links between fractions, decimals and percentage and have begun to find percentages of amounts.
In our afternoons, we celebrated Book Week by reading with partners, completing book reviews and listening to a story from a different teacher (as well as dressing up on World Book Day).
To celebrate International Women's Day today, Love to Learn is to complete a piece of writing - your choice - about an inspirational woman. This can be based on a famous woman alive today, from history or someone personal to you.