Forest Adventures!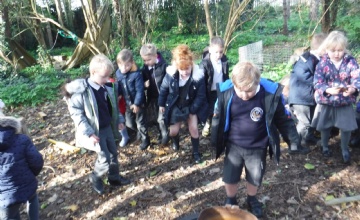 We have had another fantastic week in reception. We went on our first adventure to the forest school, where we collected leaves, sticks and pinecones for our dinosaur habitats. We also enjoyed our snack time in the forest and listened to some of our new stories; including 'Where the Wild Things Are'. We continued learning about dinosaurs, we discussed what we already knew and what we would like to find out. In maths we have been practising forming our numbers in different ways, including writing them in the air, in sand and forming them with pipe cleaners.
Please remember to book in for a parent's eventing consultation via the app, or contact the office if you need support with this.
We are very excited to invite you all to our open class this week, 3:15-4pm on Thursday 14th November. You will have the opportunity to look through your child's learning journey, talk to them about their work and look around the classroom.
Please also remember it is Children in Need on Friday, your children can dress up in anything spotty and bring in a donation!
Thank you for your support!
Reception Team