Term 2 Week 3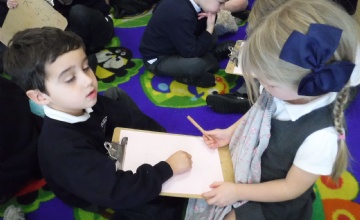 This week we have started a new topic in maths. We have been learning to combine two groups of objects to find a total. Towards the end of the week we introduced the vocabulary involved in adding e.g. 'add', 'adding', 'total', 'altogether'. The children use their arms to show us what the addition symbol looks like. They have been working in partners to combine two groups of cubes or numicon on the carpet.
Next week we will continue to learn about addition and we will start to look at number sentences.
In RWI we have been fantastic at Fred Talking our words. This has helped us to write CVC words without an adults help e.g. 'dog', 'not' and 'sit'.
We have enjoyed reading 'How to Grow a Dinosaur' in our topic lessons. We have created our own imaginary world like the one in the story, we have created our own mystery seed packets and we have even written our own thought bubbles relating to the main character, Albie.
Next week we start our new topic 'Winter'. If you have any recyclables that we can use for junk modelling please send them into school with your children. Toilet rolls are particularly useful for making igloos!
All children should now have a book corner book and a 'Rigby' book that comes with a reading record. If you do not have a Rigby book please let your class teacher know.
We look forward to seeing you on Monday and Tuesday for Parent Consultations. Please go to the main office and we will meet you there.
Have a lovely weekend.