Winter is here!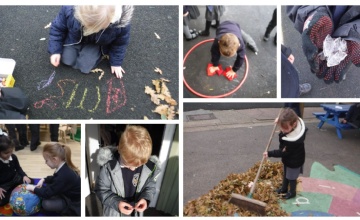 We have had a very busy week in reception!
In topic we have been exploring seasons this week. The children described the weather we may see in each season and learnt a new winter song ('Winter Winter' - youtube). They also discussed when their birthdays are and in which season.
All the children are working so hard in our RWI lessons and we are very proud of them, this week they applied their phonic knowledge by hearing anf writing initial sounds in words. Lots of children are exploring mark making independently now and have enjoyed playing teachers this week, where they practice their sounds on whiteboards.
In maths we have been relating subtraction to taking away. The children have tried hard to recall the key vocabulary, 'subtract', 'take away', 'less' and 'smaller number'. They have used concrete objects to solve number problem, by removing some to find out how many are left. This can be practised at home by using any everyday object such as apples or grapes.
Please can you bring in any recycling you have for junk modelling and remember to pop your children book wallets in the boxes so that we can change them.
Thank you!
The reception team.