Weekly News 31.1.20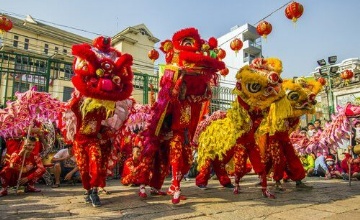 This week we have been learning about Chinese New Year. We have really enjoyed learning about the traditions that are carried out in preparation for Chinese New Year like cleaning the house to get rid of any bad luck. Ask me what I know about Chinese New Year!
We read the story of how the animals were chosen to be on the zodiac calender and we drew some of the animals at busy time. We also practice writing Chinese numbers in the red sand. Did you know that red is seen as a lucky colour in China? We particularly enjoyed tasting the Chinese food on Thursday afternoon. The sweet and sour chicken balls were a big hit and so were the prawn crackers but the chicken and vegetable curry was a bit spicy! We also ate seaweed, spring rolls and egg fried rice.
We loved having some of our parents come in for Come Dine With Me this week - thank you if you were able to attend. We have sent a letter home today regarding a Traditional Tales Tea Party on Thursday 13th February. Please send your child into school wearing a traditional tales costume (e.g. Goldilcocks or Jack and the beanstalk) and with a sharing snack.
If you have any spare/old socks, pants or tights that you no longer need then we would greatly appreciate a bank of spares in our classrooms.
Have a lovely weekend,
The Foundation Stage Team.