Welcome Team Indigo and Team Royal!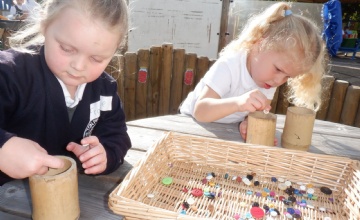 Welcome to the Reception blog! Come and see what your children have been learning each week (blogs to be posted on a Friday!).
We have had such a fun three days getting to know Team Indigo and Team Royal. We can't wait to see the morning and afternoon groups meet next week.
On Wednesday we played circle time games to get to know our friends names and some interesting facts about them. We also explored our new classrooms during busy time. Some of our favourite busy time activities this week have been junk modelling, playing in the mud kitchen, playing with the wooden multistory car park and the cars and of course playing in the home corner. On Wednesday we also got to cover our hands in PVA glue and pour glitter onto our handprints. These beautiful works of art will soon be seen on one of our hallway displays. Apologies for any PVA that made it onto our new school uniform!
On Thursday we made some signs to hang above our tables in the classroom. In Team Indigo the children decided on the table names and made the corresponding decorations to hang from the ceiling. Our morning group decided on the 'dog table' and our afternoon group decided on the 'slug table'... yuk! The grown ups chose the name of our third table and the children made beautiful bumblebees on Friday.
In Team Royal the children made colourful collages to hang above their tables. We have the red table, the blue table, the yellow table and the green table.
We also practised writing our names this week - how grown up are we!
This week Team Royal put together some kind messages to share with Miss Dudley-Smiths new puppy, Pippa.
Team Indigo have learned lots of makaton signs this week. We have learned how to sign 'hello' and 'goodbye' as well as learning the signs to the song 'Orange is a Carat' by singing hands on youtube. We have absolutely loved joining in with the signs.
We can't wait to see you next week. How exciting that you will be eating lunch at school!
Miss Miles and Miss Dudley-Smith :)