Great PE!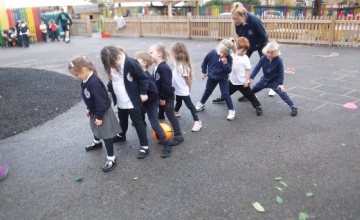 Our last topic week on dinosaurs!
The children have been thoroughly enjoying the topic Dinosaurs but sadly, all good things must come to an end! This week, the children have been making dinosaur fossils, bones and footprints from clay, mixing paint to make a stegosaurus, using pasta to make a dinosaur skeleton and going on dinosaur fossil hunts outside.
The children have been learning how to subtract this week and have been using hand signs to help them. They have worked hard at using methods to help them such as crossing pictures off and counting what is left.
In PE, the children have been learning gross motor skills and have enjoyed moving carefully around an assault course.
Have a wonderful weekend!