Weekly Blog - 4.12.20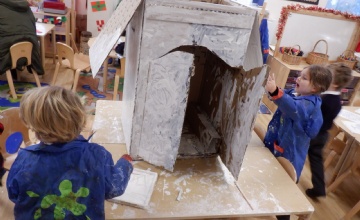 Happy Friday Reception!

This week Team Indigo have returned to school and it has been so lovely to see their faces 😊
In maths we have been working on addition. We started by using counters to answer number sentences. Then we moved onto drawing our own dots to represent the 'ones' e.g.
4 + 1 =
. . . . .
Today we even practised writing our own addition number sentences!
In phonics we have continued to practice reading and writing our Set 1 and 2 sounds.
Please continue to practice 5 sounds per week at home in your pink phonics books.
This week we started our new topic 'Winter'. We have learned about different seasons, months of the year and days of the week! We have worked hard on our festive crafts to get the school ready for Christmas! We have even made an igloo for our classroom :)
Reading Books
A polite reminder to put your reading book wallet in the reading book box outside in the morning if you would like your books changed.
Please only put them in if you have read the book! 😊
Christmas Shop
On Monday we will be 'browsing' the Christmas shop so the children can see what is on offer for them to buy.
On Tuesday afternoon the children will have the option to buy items from the Christmas shop so please send your child in with money in the morning if you would like them to buy a Christmas present.
Christmas Party
On Thursday please send your child in wearing home clothes for the Christmas party (sensible shoes!) and please provide a snack for your child to eat at the party. We cannot share snacks this year so an individual snack will suffice.
Christmas Jumper Day
On Friday it will be Christmas Jumper Day – wear your favourite xmas jumper! Lunch that day will be a Christmas dinner (Free to Reception and KS1).