Weekly Blog - w.b. 7.12.20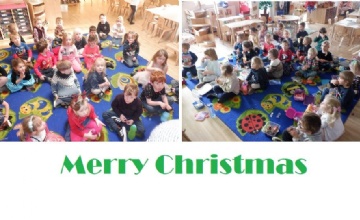 This week has been jam packed with festive fun.
We have filmed some special Christmas videos to share with you soon! We have visited the school Christmas shop and some of us have even bought some presents. We have worn our Christmas outfits and had such fun at our first Chilton Christmas party. Today we wore our Christmas jumpers and we wore our headbands up to the hall to eat our Christmas dinner. Yum yum!
In maths we have had a fab time learning about 2D shapes.
We have learned about the names and the properties of a square, a rectangle, a triangle, a circle, a hexagon and a pentagon! We have sorted them into groups, been on a shape hunt, become shape detectives and described our mystery shape for our friends to guess.
We can't wait to see you next week, whether you're in class with Miss Dudley-Smith or Mrs Cheshire, or learning from home with Miss Miles – we have a fun week ahead! We will be learning about positional language in maths and we will be learning about the Christmas story and Christmas around the world in topic.
See you then!
The Foundation Stage Team