Term 5 week 2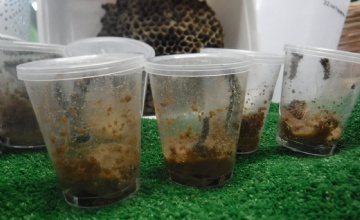 A wonderful week learning about growth.
This week, the children have been busy learning about our new Topic Growth. Whilst we have been watching the caterpillars grow, the children have been making predictions about what might happen to them next. We have had some interesting suggestions some of our favourites being 'I think they will grow legs and run away' and 'they could turn into super bugs and rescue people.' We have been reading the story 'The Gigantic Turnip' and the children have been writing about what seeds need to grow and how fruits and vegetables grow differently.
In Maths, we have been writing addition and subtraction sentences, making sure that we use the right symbols to complete the number sentence. We have been making sure our numbers are neat and clear to read. The children have particularly enjoyed the number discos we have had during fizzy time, the children have to write as many numbers as they can down on their piece of paper whilst they boogie to the music.
REMINDERS:
Please make sure all items of clothing are named. It is getting hotter, so layers are coming off and it can be a lengthily task guessing whose jumper/cardigan is who's at the end of the day!
Number day is the 7th May, as it is also PE day we will be wearing our number themed clothes for our PE lesson so please do wear comfortable footwear.
We hope you all have a lovely bank holiday weekend, see you Tuesday!