We released the butterflies!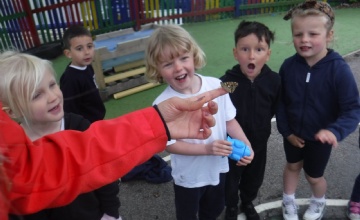 Another fun week for reception!
This week the children have been mixing outside for the first time! They have shown an incredible amount of kindness and willingness to make new friendships.
Something very exciting happened this week- the cocoons started to shake and out flew our butterflies-a fabulous way to end our topic Growth. In Topic, the children have been discussing how important it is to keep healthy in order to grow well. They have been writing sentences about what we need to grow, drawing around our bodies with chalk and discussing what is in our bodies and how we can look after them, ordering stages in our life starting with a baby and drawing and labelling parts of our body such as our heart and how we can look after them.
In maths, the children have worked hard at counting in 2's, 5's and 10's. We have been practising this by counting sets of 2,5 or 10 objects and seeing how many are all together!
Home Learning - HEROES Stamp design competition!
For more than 50 years Royal Mail's Special Stamp programme has commemorated British history and achievement. Stamps have also been issued to honour the achievements of many British people. Often, the people who appear on stamps are already famous.
Since the coronavirus pandemic began, there have been many people who have done great things. Many of them are not famous, but they have done extraordinary work. These are the people who have helped us all through a really difficult time. Some are frontline workers in healthcare, volunteers and others look after elderly or vulnerable people.
We think that what these people have done makes them heroes, so Royal Mail wants to honour them by producing a set of eight stamps.
The stamps will feature designs created by eight school-aged children. We are asking our young designers to think about who their hero or heroes are, and to then design a stamp in their honour. A special panel of judges will pick the winning designs. The final eight stamps will be sent to Her Majesty The Queen before they can be printed and issued.
All children should have received a template for the design. Please hand in to teachers on or before Tuesday 25th May.
If you would like more information please visit: https://www.stampcompetition.ichild.co.uk/
Love to Learn Challenge: May Half Term
At the start of next term our topic will be 'The Seaside'! Your challenge over the holidays is to find out about some aspect of the seaside. This could be finding out about the sea, beach, seaside holidays past and present and so on (please follow your child's interests). You could look in an information book, go to the beach and record what you found/draw pictures, read stories about under the sea creatures, look on the internet, ask a grown up and so on. Your child can draw pictures in their Love to Learn book, stick in pictures from the internet or photos of the beach. They could make a model, a collage or paint a picture. Please return the Love to Learn challenges by Wednesday 9th June so that we can use them at the start of our topic.
Many thanks for your support.
Many Thanks,
The Foundation Stage Team