Friday 1st October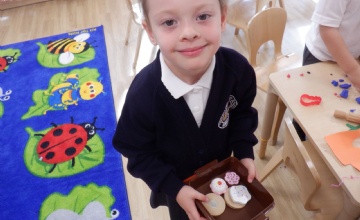 The children have continued their great start to life at Chilton. They are settled and are getting into the rhythms and routines of school life; they already exude the 'Chilton Way' and we are very proud of them all.
English
In Read, Write Inc this week the children have learnt the sounds g, o, c, k and u. We have continued playing lots of oral blending games and are now beginning to learn how to blend and segment those sounds in order to read and write simple words. We have enjoyed lots of different stories and have been starting to talk about what happens at the beginning and end of stories and starting to make simple predictions as we read.
Maths
In maths this week, we have been learning to recognise numbers from 1 to 5. We have then been counting out objects in order to match the numerals. The children enjoyed having numbers written on paper plates and using tweezers in order to move the correct number of poem poems onto the plates. They also enjoyed going on a treasure hunt, looking for numbers hidden around the outside area.
Topic
In Topic this week, we continued to learn about our families. We shared our summer books from home and spoke about all the children in our families. We had a go at drawing pictures of our families, considering all the parts of the body we would need to draw. During Topic, we have focused on learning the vocabulary of parts of the body, for example, shin, ankle and wrist.
Reminders
Team Topaz have their Sport Project session on a Tuesday and therefore need to wear trainers on that day. Team Aqua have their Sports project session on a Wednesday. Both classes have P.E on a Friday and therefore need to come to school in their PE kit on a Friday.
If you have any empty boxes/containers at home, please can you send them in for children to use to make models with.