Friday 21st January
What a super week we have had this week! Thank you for helping to make such fabulous superhero costumes for the children to wear this week. It has really helped us to have an amazing start to our new topic! Each and every child looked great and the effort which went in to the Love to Learn books was also brilliant – thank you!
Phonics:
The children have been continuing to practise Set 1 sounds. They have been practising writing these sounds and reading and writing words and sentences with these sounds in. The children have been set some writing challenges in Busy Times and they have enjoyed showing us what they can write! Miss Gorham's RWI group have started to learn Set 2 sounds. This week they have learned:
ay (ay – may I play) like in: play, tray, clay
ee (ee - what can you see) like in: feet, see, seen
If your child is in Miss Gorham's group and would like to use a page in their sounds books for each of those sounds, that would be great!
Maths:
This week, we have been learning about the composition of numbers. We have done this in lots of different ways (e.g. with cubes, Numicon tiles, counters, drawings). They have been learning that a 5 can be made with a 3 and a 2, but that it can also be made with a 4 and a 1. The children have started to use what they have found in a part-part-whole model.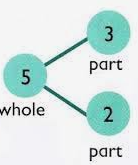 The children have also started to see this written as a calculation e.g. 3+2=5.
Next week, we will be moving on to adding by combining two groups.
Topic:
As mentioned above, we have started our new topic 'Superheroes' this week. We started the week dressed up as our very own superhero. We spoke about who we were dressed as and what special powers we have. The children also shared their Love to Learn books with their classmates. We have been loving the book Supertato! We designed and made traps for the Evil Pea – there were some rather great ideas! We also discussed the different foods mentioned in the book and discussed what a healthy, balanced diet is. As part of this, children were given the option to try some of the fruits and vegetables.
Next week, we will be reading Eliot Midnight Superhero. We will be thinking of different missions he might go on and record these on a storyboard. We will also be designing and making a superhero cake, as well as discussing the importance of staying fit and healthy.
Book Fair
From Monday 24th January - Thursday 27th January, we will be welcoming the Book Fair back to Chilton Primary School. The Book Fair will be outside of KS2 in the morning and on the KS1 playground after school. We look forward to seeing you!
Number Day
On Friday 4th February, we will be having our annual Number Day. Children are welcome to come dressed in anything number related!
Dress to Express
On Friday 11th February, children can come 'dressed to express'.
Many thanks for all of your support, from all of the EYFS Team!
Please enter some content for your blog post here.