Friday 1st April
We have come to the end of another fantastic term in Reception. We hope that you all have a lovely, restful few weeks and we look forward to welcoming the children back on Tuesday 19th April.
Easter Bonnet Parade
We would like to say a big thank you and well done for helping your child(ren) to create some amazing Easter bonnets! It was lovely to welcome you in to the school to show off these wonderful creations.
Baby/Toddler pictures
To start our topic 'Growth' next year we would like to play a game of Guess Who! We are asking parents to email a picture of your child(ren) when they were a baby or toddler to your class teacher:
nicki.cotton@chiltonprimay.co.uk
kirby.walker@chiltonprimary.co.uk
If you are unable to email, please pop a photo in a named envelope. Many thanks for your help with this.
Love to Learn task
Next term our topic will be 'Growth'. For your child's love to learn challenge over the holidays we would like you and your child to plant a seed of your choice. Please could you detail the changes that happen to the seed/plant as it grows. Also note what you need to do to the seed/plant in order to help it grow. You could do this by taking photos or asking your child to draw a picture of the seed/plant at various stages of growth. We ask that you return your child's love to learn book by Wednesday 20th April. We understand your seed may not be fully grown by then but hopefully the children will have seen some changes. They are welcome to bring in their plant to show if they wish.
Art Competition (this is voluntary)
We are very excited to announce that we have been invited to enter the Turner Contemporary's annual art competition.
This year's theme Belonging is inspired by the work of Ingrid Pollard who will be bringing her major solo show to Turner Contemporary in Summer 2022. Pollard uses film, photography, sculpture and installation to explore ideas of identity.
This will be explored more throughout our PSHE topic next term; Be Here, Be You, Belong.
As well as taking part in art work within school, we are asking you to design something at home! With the theme being 'belonging' you can design anything from a painting, sculpture, contemporary dance or speech!
The winner of this competition will have their work exhibited at the Turner contemporary!
By your child entering this competition, you will be giving permission for their piece of art to be possibly displayed at the Tuner contemporary.
Please bring in your designs or send any videos to Mrs Winchcombe (poppy.winchcombe@chiltonprimary.co.uk) by the 28th April. These will then be passed on to the Turner Contemporary.
Phonics:
Most groups have started to learn Set 2 sounds (these are listed below). When reading words, we always check for a special friend first of all, then we Fred talk, then we say the word. The set 2 sounds can be quite tricky to spot in words, so you may want to support with spotting these when you are reading with your child at home.
Set 2 sounds:
ay (play)
ee (feet)
igh (night)
ow (snow)
oo (zoom)
oo (look)
ar (car)
or (fork)
air (fair)
ir (girl)
ou (shout)
oy (boy)
Maths:
This week, we have been learning to identify similarities between shapes (e.g. a square and an oblong both have 4 sides and 4 corners). We also looked at shapes when they are different orientations and discussed how an 'upside down' triangle is still a triangle because it has 3 sides and 3 corners. We have also been learning to create our own repeating patterns this week. We used Easter themed pictures to create and explain our very own repeating patterns! You can see pictures of Team Aqua completing some of their maths tasks below.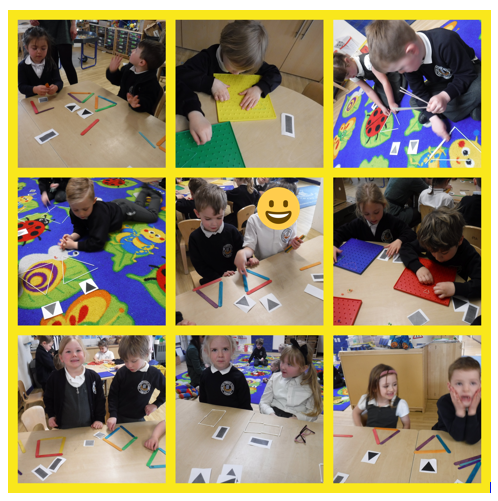 Topic:
This week we have been learning about Easter. We have learned who celebrates Easter and why it is celebrated. During the week, we have also been learning how Easter is celebrated in different countries around the world. We then took part in some of these traditions; we designed and then decorated an egg and then took part in an egg rolling competition which was so much fun!
Donations for School:
We would gladly receive any of the following:
Paintbrushes (all different sizes, including DIY paintbrushes)

Paint rollers and trays

Tights

Any fabric (any shape/size/colour)
Little Stars Sheets
It is always lovely to receive WOW moments which the children have completed/achieved at home. If your child does something for the first time or does something really well at home, please write it on a little stars sheet (ask your child's teacher if you need more) and pass on to us so we can add it to their learning journeys.
Many thanks for all of your support, from all of the EYFS Team!
Please enter some content for your blog post here.