Weekly news- Friday 13th December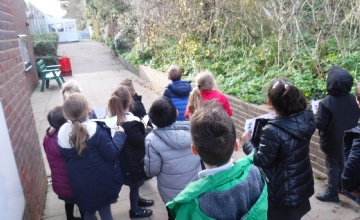 Weekly news - Friday 13th December
We made it to the end of the last full week!
In Maths this week we have been learning about statistics by creating different graphs and charts and answering questions about them. At the beginning of the week we went on a winter walk and created a tally chart of the winter items we saw. We were blown away by the children's work (and by the wind!) Later in the week we created pictograms using information from a tally chart. The charts showed information about the teachers' favourite Christmas food!
This week in RE we have discussed giving and receiving gifts to people special to us. We also explored the Christmas story, we had amazing recall of the story and showed great understanding of the different events.
We celebrated our amazing behaviour for the whole term by having a bounce on the bouncy castle- even the teachers had a go! We want to say a massive congratulations to all the children who have worked so hard this term on showing the Chilton way. It can get tricky at this time of year as we all become tired and weary, but the children are showing great resilience.
Dates to remember-
Tuesday 17th- a letter should have come home to you this week regarding our Christmas Party! Each house has been given a food group to bring in to share. If you are unsure, please check with your class teacher or the posters up in the windows. Children can come into school in their party clothes on this day.
Wednesday 18th- LAST DAY OF SCHOOL 2pm FINISH. This is Christmas jumper day.
Love to learn- homework this holiday is to watch one of the teacher videos on the website. Every teacher has a recording of them reading a story for you to enjoy!
There is also a reading challenge attached to the blog should your child wish to accept!
Happy holidays from all of the year 1 team.