Weekly News - Friday 13th March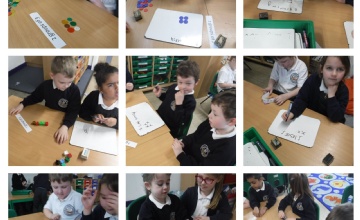 Food from around the world!
The children have had another wonderful week in school!
In maths this week we have been learning how to multiply. We started the week by placing objects into equal groups. We would then count how many groups there were and how many objects were in each group e.g. 4 groups of 4 equals 14. We then learnt how to place objects into an array. We then used the arrays to quickly count the total. Finally, we related 'groups of' to multiplication - 4 groups of 4 is the same as 4 multiplied by 4.
In topic this week, we have learnt about food and where it comes from. We learnt about the names of the 7 continents and some simple facts about them. When then looked at foods from around the world and the countries and continents the food was from.
Home learning: This week we ask that you make a dish (this can be main meal or desert) that is special to your family. It may be the favourite meal your Mum makes or a recipe that has been passed down in your family. You could take pictures and put them in your Love to Learn books.
Next week, we are learning about division. We will be sharing objects into equal groups and relating this to division. In topic we are exploring how germs spread.
Dates for the diary:
Please note Teal Teals class assembly has been postponed. Please keep hold of your scripts as these will stay the same.
In addition, come dine with me and the Chilton Fundraisers Bingo are cancelled.
20th March - Rock your socks - children to come in wearing school uniform but wear brightly coloured socks.
Wednesday 1st April - last day of school. School will finish at 2pm