Weekly News! 24.1.22
We have had a wonderful week in year 1!
Here is what we've been learning…
Read, Write Inc.
This week we have been working so hard with our sounds! We have been loving reading a range of alien words! (Nonsense words) Any practise at home with alien words would be greatly appreciated!
Pick a sound from the sound chart, for example; 'ai' place this sounds into a random word! 'saip'
WHAT A LOAD OF NONSENSE!
Maths
This week in Maths we have been working hard to solve tricky word problems! We took our time to read the question, circled the important information and most importantly, looked for those special words that helped us know if it was a subtraction or addition calculation.
We worked so, so hard and made all of our teachers proud!
Topic
This week in Topic we have continued our topic 'I care about ME!' We started the week by looking at Edward Jenner. We learnt about how he created his first vaccination and stopped the spread of smallpox! We then moved our learning on by learning about the Plague! We couldn't believe what events took place and the advice given by plague doctors! We created our own plague doctor masks and gave advice to each other to keep ourselves safe from it. We then ended the week by looking at germs. We looked at how quickly germs spread by sneezing in our hands (Adding glitter) and shaking somebody else's hand. We even found the glitter on the toilet door YUK! We then set up an experiment using bread. We touched a slice of bread with dirty hands, a slice of bread with washed hands, a slice of bread with anti-bac hands and a slice of bread not touched by any hands. We will be observing the changes over two weeks. Watch this space…
Next week
In Maths, we will be learning about capacity and mass. We will be learning to compare and order mass, to weigh mass and compare and order capacity and volume.
In RWI, we will be continuing to practise our sounds, use punctuation, practise our writing and learn more tricky red words.
In Topic, we will be learning about where our food comes from, what the eatwell plate is, what healthy and unhealthy foods are and finally we will be writing a persuasive letter to persuade someone to eat their vegetables!
Love 2 Learn
This week we would love for you to make a wonderful germ poster! This could be encouraging people to wash their hands, to catch a sneeze and bin it, kill it. It is entirely up to you! Have fun.
Art Competition
Please have a go at this wonderful art competition. We would love for you to enter.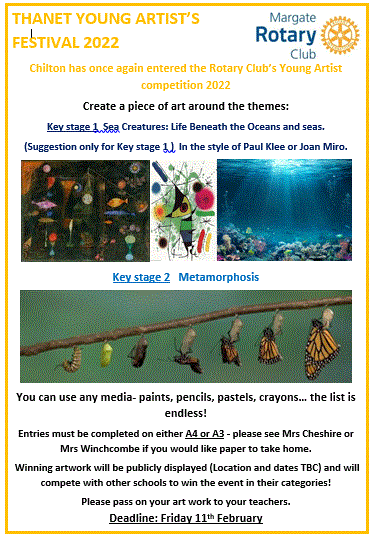 Reminders…
PE is on Monday – Please remember kit.

Please remember to tie hair back.

The Sports Project; Normal uniform, with trainers. – Tuesday

Friday 4th February - Number Day
Have an amazing weekend and we look forward to seeing you next week!
Mrs Winchcombe and Mr Allen