Weekly Blog w/b 28.3.22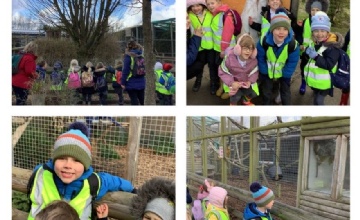 This week in Team Indigo and Team Royal we have been learning…..
Read, Write Inc.
This week in Read, Write Inc. we have been working so hard phonetically reading words. We have really enjoyed our 'Write About' this week. Ask us what our story book was about!
Maths
This week in maths we have been learning about time. On Monday we timed ourselves having a drink, skipping around the playground and we also timed the length of our Maths lesson. We discussed which activity took seconds, which a minute and which took an hour. On Tuesday we compared some statements about time e.g.
Our parents go to bed __________ than us.
Earlier or later?
The snail was ______ than the cheetah.
Quicker or slower?
On Wednesday we looked at some clock faces and learned about how to tell the time.
Topic
This week we have learned about Easter around the world.
Did you know that in America they roll eggs down a hill in an egg rolling competition?
We have had an egg rolling competition of our own!
Ask us how the celebrate Easter in Germany and Sweden.
Wingham
We had so much fun exploring Wingham Wildlife Park on Thursday. Have a look at some of our photos!





Next Term
Next term our topic will be 'The Toy Story'.
RWI
We will continue to review Set 1, Set 3 and Set 3 Sounds. We will have lots of practice looking for special and chatty friends in words, Fred talking in our heads and reading the words.
Maths
In Maths we will be learning about Geometry (properties of shapes), Number and place value, Money, Addition and Subtraction.
RE
In RE we will be learning about Hindu beliefs.
Topic
We will be comparing changes within living memory. We will have a look at popular toys man years ago and comparing them with popular toys today. Please bring in your favourite toy on Tuesday 19th April. Leave the safely in your locker until our topic lesson in the afternoon.
Love 2 Learn
Over half term please keep a diary of the things you get up to. Write interesting sentences and draw pictures of your activities.
Have a think about your favourite toy. Draw a picture of it and explain why you love it so much.
Continue reading your school and home reading books.
Keep practicing those Year 1 Common Exception Words from the sheet that we sent home.

Reminders….
PE is on Monday please remember kit.

Swimming next term starts on Thursday 21st April. Please pack a swimming kit.
Indigo with be swimming first thing in the afternoon and Royal will be afterwards.
Please remember to tie hair back.
The sports Project; normal uniform with trainers on Tuesday.
Dates
Competition
We are very excited to announce that we have been invited to enter the Turner Contemporary's annual art competition.
This year's theme Belonging is inspired by the work of Ingrid Pollard who will be bringing her major solo show to Turner Contemporary in Summer 2022. Pollard uses film, photography, sculpture and installation to explore ideas of identity.
This will be explored more throughout our PSHE topic next term; Be Here, Be You, Belong.
As well as taking part in art work within school, we are asking you to design something at home! With the theme being 'belonging' you can design anything from a painting, sculpture, contemporary dance or speech!
The winner of this competition will have their work exhibited at the Turner contemporary!
By your child entering this competition, you will be giving permission for their piece of art to be possibly displayed at the Tuner contemporary.
Please bring in your designs or send any videos to Mrs Winchcombe (poppy.winchcombe@chiltonprimary.co.uk) by the 28th April. These will then be passed on to the Turner Contemporary.
Have an amazing Easter holiday and we look forward to seeing you next term !
Mrs Winchcombe, Miss Hall, Mr Allen and Miss Miles