Weekly News w/b. 9.5.22
It's the end of another fun-filled week in Year 1. This is what we have been learning about…
Read, Write Inc.
We continue to revise our special friends (digraphs) and chatty friends (split digraphs) as well as reading green, red and alien words. We are pleased to see so many children eagerly changing their home reading books. Please continue to encourage as much reading and writing as possible! We have been working hard to build our writing stamina in recent weeks. Every morning we have written a couple of simple sentences in our morning journals. The impact of this is really showing in our Read Write Inc lessons.
Maths
This week in Maths, we have continued to learn about number fact families. We have been using part part whole models (see below) to help us work out missing number problems. This is so tricky! We learnt a rhyme to help us know how to answer missing number problems:
Missing number in the middle, do a subtraction to solve the riddle.
Missing number at the end, it's so simple my friend!

We also worked on some word problems. We were really good at these so we were able to try some challenging questions.
e.g. Mrs Law has 20 pencils. She loses 5 on the way to school and another 6 at lunchtime. How many pencils does she have now?
We have also practised using a number line to answer addition and subtraction questions.
Topic
Our topic this term is 'The Toy Story' and this week we have had a history focus. We have looked at how toys have changed over the years and created a 'toy timeline'. We learnt about toys from each decade over the past 100 years. We also compared Victorian toys to modern toys, discussing which we thought were better and why. We were lucky enough to make our own peg dolls, just as some poorer Victorian children would have done. We had so much fun using our imaginations and getting creative. We summarised our learning by ending the week with a 'Big Write'. We wrote about whether we thought Victorian or modern toys were better and why.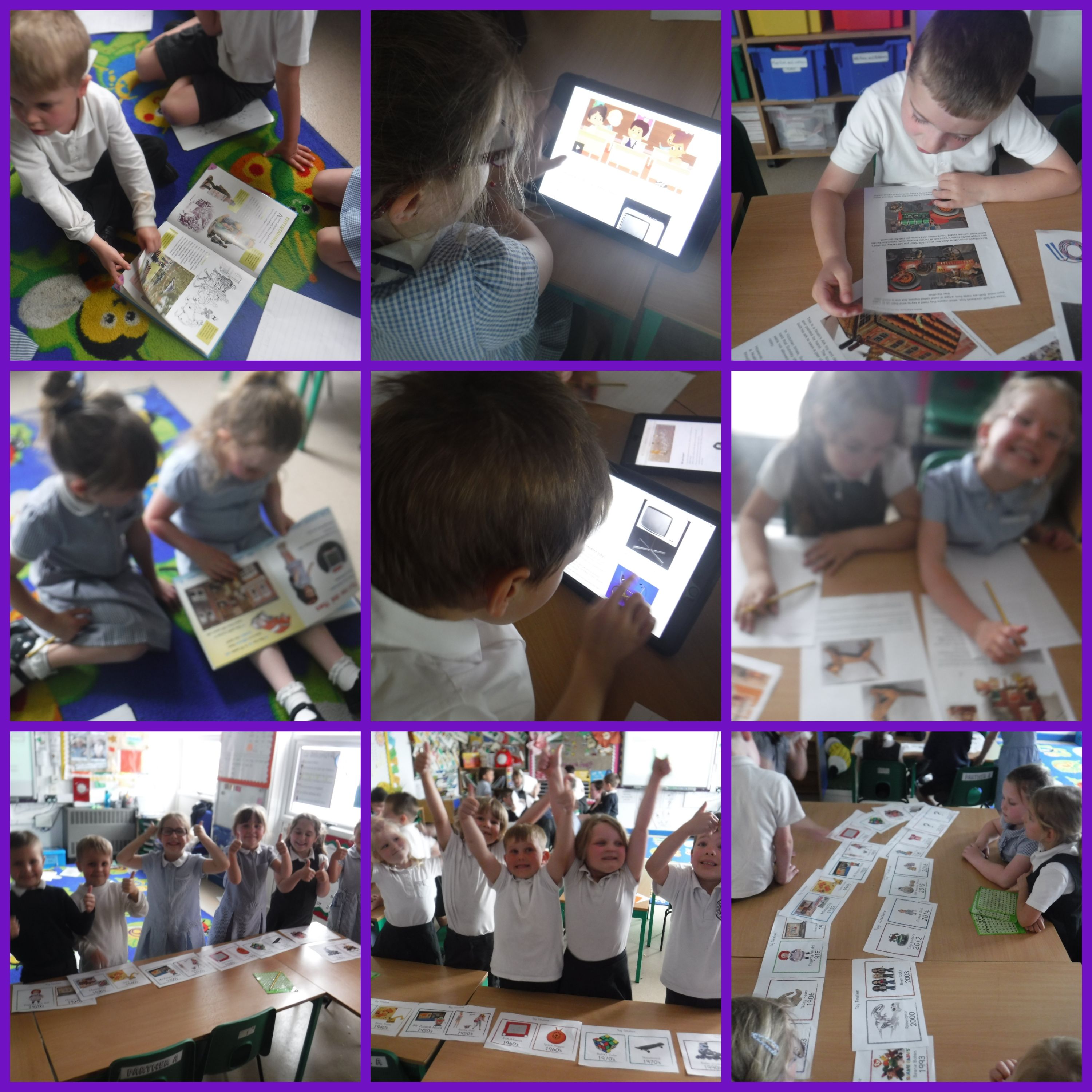 PSHE
On Friday we reread the story 'Along Came a Different' and discussed the rules that were made by the characters in the text. We acted out the rules that were made and decided whether we thought they were good rules or not. Some of them were very silly rules! We then created a list of rules that we thought were important in the world to ensure that we could all live in harmony.
Next week
In Maths…
We will be recognising and recapping the value of different denominations of coins and notes 1p,2p,5p,10p,20p,£1 and £2
In RWI…
We will be continuing to practise our sounds, use punctuation, practise our writing and learn the red words.
In RE…
We will be learning about what Hindu's celebrate!
Love 2 Learn
This week, we would love for you to use a number line to 30 (you could make your own!) to answer some addition and subtraction questions.
Green

Amber

Red

6 + 5 =

9 – 3 =

10 + 7 =

10 – 7 =

18 + 6 =

20 + 7 =

19 – 4 =

21 + 4 =

28 – 6 =

14 + 9 =

16 + 12 =

15 – 10 =

12 + 18 =

29 – 11 =

13 + 16 =
Reminders…
Swimming is on Thursdays. Please remember to tie hair back.

The Sports Project; Normal uniform, with trainers. – Tuesday

As the weather is warming up, please can children make sure they bring in sun hats please.
Have an amazing weekend, and we look forward to seeing you next week!
Mrs Winchcombe, Miss Hall, Mr Allen and Miss Miles