Weekly News 4.10.19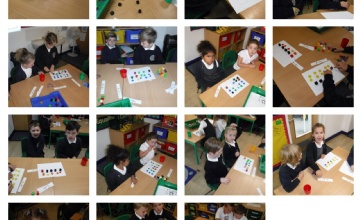 Addition and a visit from the police!
Maths
This week in Maths we have been exploring number bonds to 10. We have been using tens frames (see pictures) and coloured counters to find out all the different ways we can make 10. We then learnt how to use out tens frames to solve simple addition calculations. For ideas on how to support this learning at home, please see this week's love to learn task.
Topic
In Topic this week, we had a visit from a Police Officer. We had the chance to ask him lots of questions about what he does within his job role. We then wrote some facts about what we had learnt. We also started to think about the jobs people in our family do and what tasks they many have to carry out at work.
Home learning
This week we would like your children to represent all the numbers bonds to 10 (10+0;9+1; 8+2 etc) in an interesting way. This could be drawing chalk circles on in the garden; using different coloured leaves e.g 8 yellow and 2 green; using peas and sweetcorn. They could then record this in their books, either by taking a photo or drawing what they did. We will share what the children have done in class.
Home learning is due in by Wednesday 16th October.
News and reminders
Individual school photos are on Thursday 10th October.
Last day of school is Friday 18th October.
Chilton Fundrasiers are holding a Harry Potter Halloween event on the last day of term.
The pupils really enjoy junk modelling. If you have any old junk boxes/packaging then please send it into school.