Home learning for Wednesday 10th June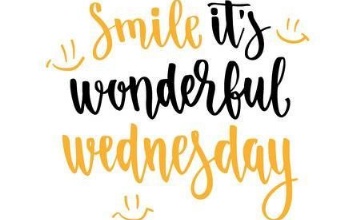 Wednesday 10th June
Good morning Team Ocean and Team Sky!
Seeing in colour
You will no doubt have seen news regarding anti-racism protests across America and, more recently, within the UK. Your children may also have overheard snippets of the news or household discussions about the recent events that have sparked outrage in communities.
At this time, Chilton Primary School feels it our duty to ensure we are taking action to support and educate our pupils by helping them to make sense of a potentially very confusing time. Please see the document attached at the bottom of the blog post.
 Playlist: This weeks playlist comes from Miss Davey's mumma's suggestion… The Lighthouse Family!
Lighthouse Family are a British musical duo that rose to prominence in the mid-1990s and initially remained active until the early 2000s. Vocalist Tunde Baiyewu and keyboardist Paul Tucker formed the act in 1993 in Newcastle upon Tyne, UK after meeting while studying at university and both working at the same bar. Their 1995 debut album Ocean Drive sold more than 1.8 million copies in the UK alone and established them as a popular easy listening duo throughout Europe.
https://www.youtube.com/watch?v=taOL5HJdx1A&list=PLOBLKxqQVJC1Wh3Zjv-WRGfczyLlby66p
Fact of the day: In a lifetime, the average human produces 25,000 quarts of spit.  That's enough spit to fill two swimming pools. EWWWWW!
Morning Journal: What do you feel proud of about yourself? It could be things like that your humour, kindness, eyes, whatever makes you proud.
Feelings: How are you feeling this morning? I'm feeling a little sleepy!
Guided Reading:
Read the story 'The Scarecrow's Wedding' https://www.youtube.com/watch?v=UIHLnnJ-uFc&feature=youtu.be
At the end, read the blurb on the back of the book.
The blurb on the back of a book is a summary of the story. Stories often have a good guy (a 'goodie') and a bad guy (a 'baddie'). Make a list of character traits for 'goodies' and 'baddies' eg. a hero, kind, selfless compared to naughty, careless, mean.
Discuss with your family which characters from The Scarecrow's Wedding could be seen as the 'good guy' and 'bad guy' characters?
Was Reginald Rake really 'baddie' or did he just make a simple mistake?
Did he do any other mean or naughty things?
Can you think of any other goodies and baddies guys in any other books? For example: characters such as Wizard Lizard in Superworm or The Highway Rat in The Highway Rat. Discuss the sort of feelings that bad guys bring to a story.
Do they make the story more exciting?
How does the reader feel when bad guy is being 'bad' or when good actions conquer bad behaviour?
English
Check out Jasper, Freddie, Max and Beau's great writing!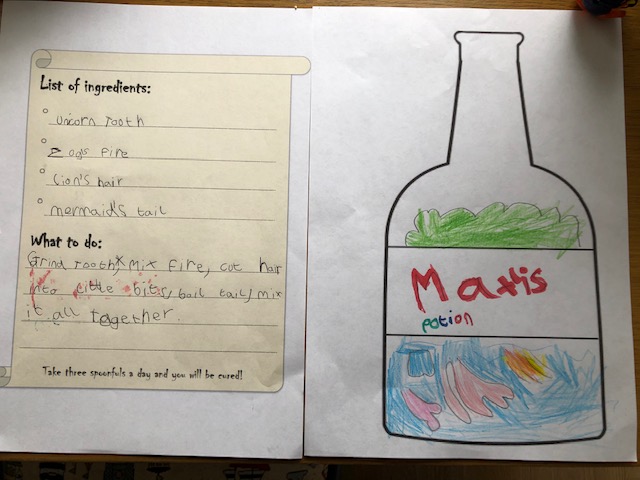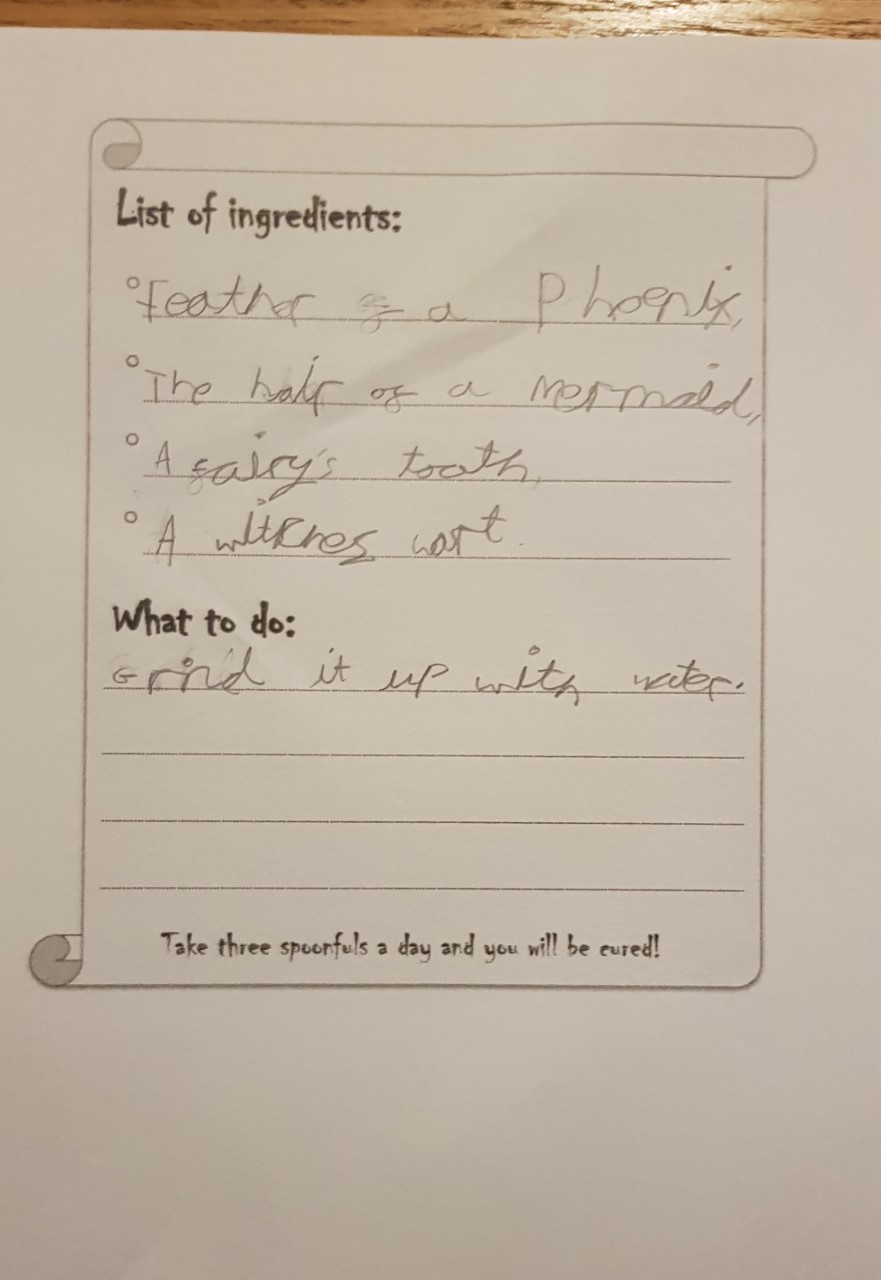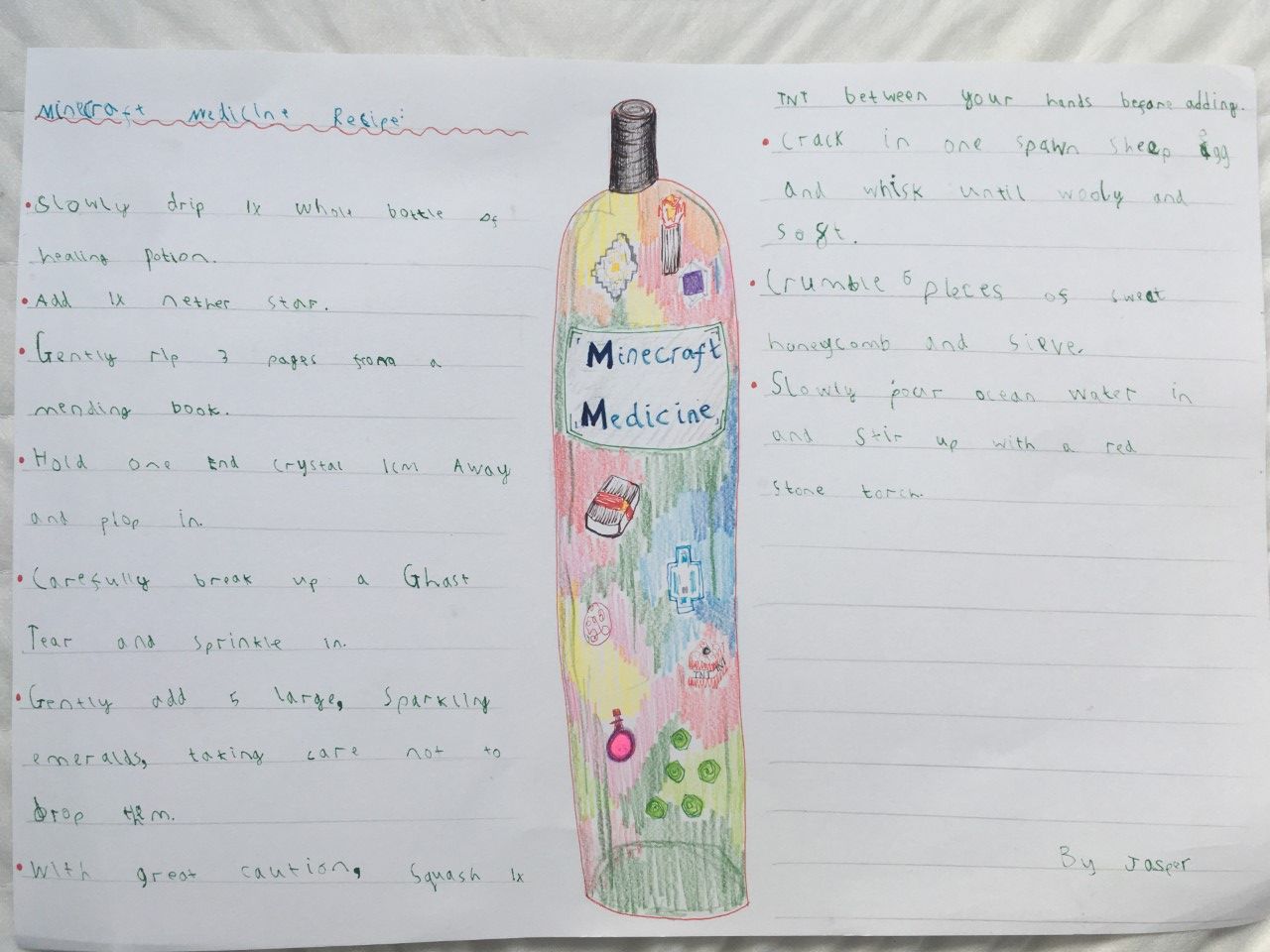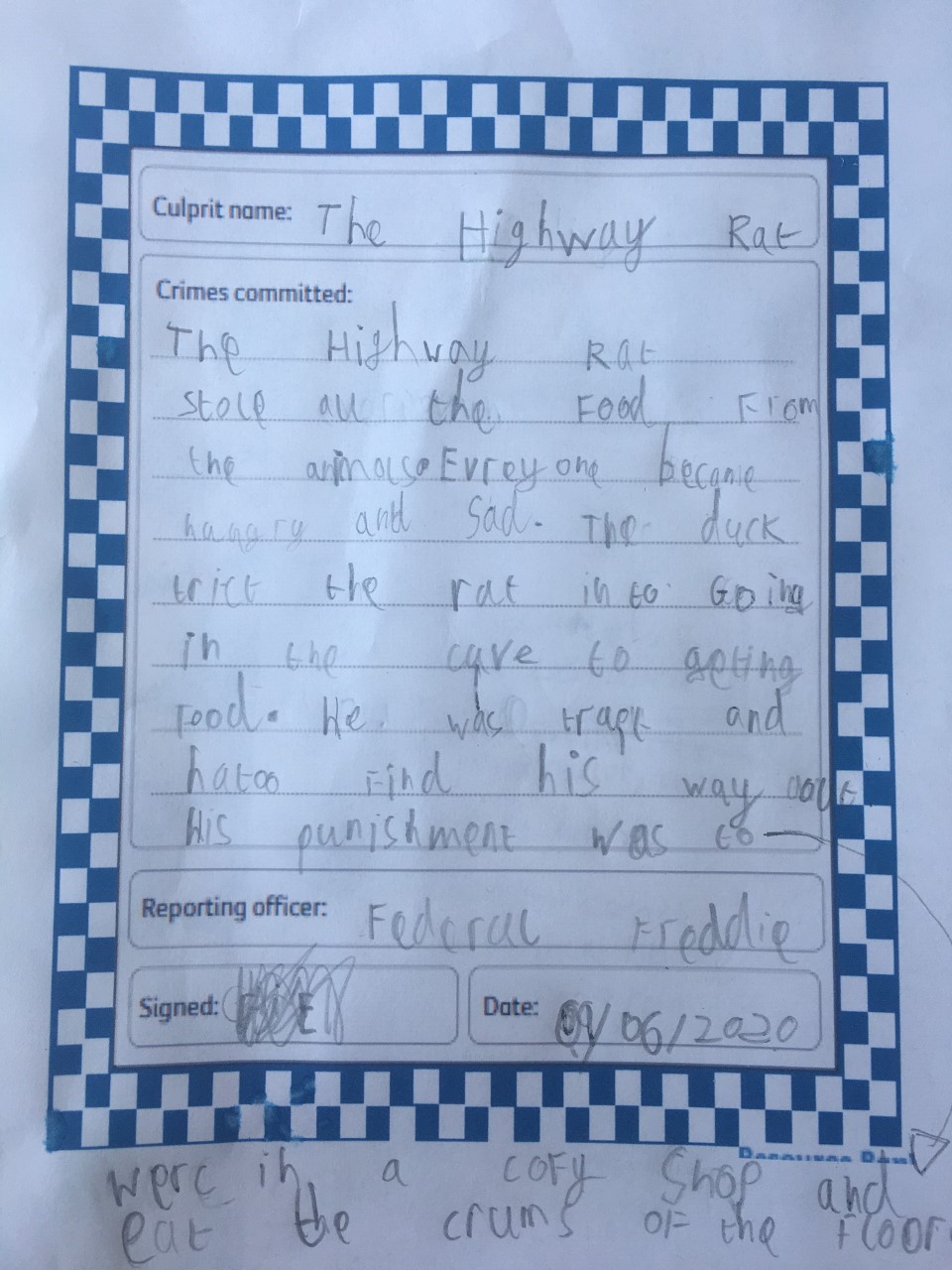 Revisit the page where Reginald Rake leaves poor Betty in a burning field. Anyone can make a mistake – and mistakes aren't bad – but Reginald's reaction is really naughty.
Should he have run away to leave Betty in danger?
What should he have done instead?
Today we would like you to design a poster to help find Reginald Rake so that he can come back and say sorry to Betty and Harry. It could be used in newspapers and magazines for farmers, so that they can look out for Reginald on their farms. Have you seen this scarecrow? Talk about what important information you will need to include to draw and describe Reginald.
Think about:
His appearance: study Axel's pictures in the book to draw an accurate picture of Reginald and what he looks like.
What is he wearing?
What hairstyle does he have?
Does he have any other distinguishing features?
His 'character traits': if Reginald changed his appearance, people would need to look out for his 'character traits'.
What other information is in the story that could be included on the poster – what does Reginald like to do?
Additional information: the poster should explain why Reginald needs to be found and what he has done.
Maybe you could offer a reward for finding Reginald Rake on their poster (it could be something connected with the story such as a shell necklace made by crab or a dress of goose feathers sewn by spider) and 'who to contact' details in case he is found!
Remember to use adventurous adjectives! There is a 'Wanted Poster attached – Please feel free to create your own!
Maths:  
Check out Max enjoying his Maths work this week!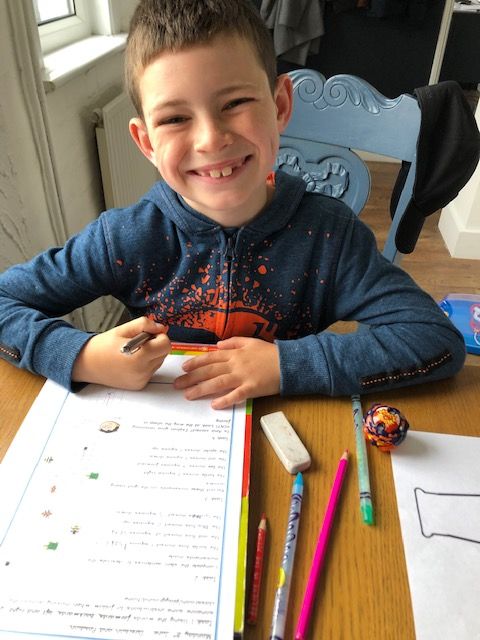 This week we will be looking at direction and position! Please see the sheet attached.
Music: Today we would like you to create your own music video! This could be on your own or you could even create a family band! You could create your own instruments or even make up your own song! HAVE FUN!
Helping at home challenge: Today we would like you to focus on your own space… your bedroom. Make sure it is nice and tidy with everything put away in its place.
 We hope you have a lovely day! 
Lots of love,
Miss Davey and Miss Keam  
Please enter some content for your blog post here.