Weekly News 14.2.20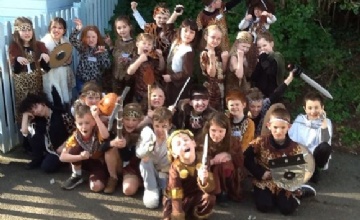 English
In English this week we have been practising our paragraphing skills, writing poetry and writing instructions. In poetry, the children have learnt how to include figurative language in their poems. They've used alliteration such as 'Magnificent mammoths marching through the marshes' and also used onomatopoeia words such as bang, crash, splash, clatter. We have also written a rhyming prehistoric rhyming poem and written rhyming couplets such as, The hungry hunter sets off with his spear, Will they catch the fearful deer?
Maths
In maths this week we have been learning to divide larger number using written methods. We have used the bus stop method to solve calculations and then we solved word problems involving division.
Topic
We have completed our Scavengers and Settlers topic this week. The children wrote an information sheet about the 3 eras of prehistory and then we made some prehistoric food on Wednesday. The children really impressed us with their knowledge in our exit point quiz!
Love to Learn
For your half term home learning challenge we would like you to do some research to prepare you for our upcoming topic called 'May the force be with you'. We would like you to find out about one of these forces - gravity or friction - and present your findings in a poster. You will probably have to draw pictures to help you explain how the force acts on things.
Spellings
Mr Mason's group - dangerous, generous, mountainous, poisonous, perilous, business
Mrs Cousins' group - funniest, prettiest, happiest, happier, lovelier, sunnier
Messages
Thank you so much for all your support and effort with our Prehistoric Day. The children's costumes were brilliant and we loved having parents and carers in to take part in our quiz and try our food. Please see pictures in separate blog post.
PLEASE REMEMBER THAT MONDAY 24TH FEBRUARY IS AN INSET DAY AND WE START BACK ON TUESDAY 25TH FEB.
First day back after half term (Tuesday 25th February) is Personal Sports Challenge Day. The children may come to school wearing sports clothes and trainers.