Weekly Blog - Friday 18th September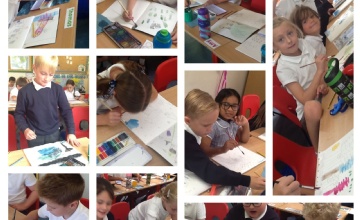 What a wonderful week of learning!
Year 3 have really settled in to school life now and have been outstanding with their learning! We are so proud of them! Here's what we have been learning this week:
GR and English
This week we read more of our story and the Princess has travelled through the forest to the castle with the bear king. Using exciting vocabulary we built upon our sentences to create beautiful setting descriptions. We used our senses and came up with incredible writing. We have been exploring poetry to gather ideas for our own writing.
Next week we will be exploring the plot of the story and retelling, using a range of sentences.
Maths
This week we have been learning about addition. We began by consolidating our learning about partioning which we then applied to our 2 digit addition. We first used our place value counters and our base 10 to add, and then moved into diagrams before formally writing the column method. We could very clearly explain our methods. On Friday we explored adding on a number line. Next week we will continue to add moving onto 3 digits and making sure we can regroup in the tens and hundreds.
PHSE
We have been learning about our four values this week and how we can apply them in our day to day lives. We loved playing respect games with our learning partners and enjoyed making our own board games to show kindness. We had fantastic discussions about equality - Year 3s are VERY passionate!! We designed our own Chilton equality logo
We have begun to use our zones of regulation and understand how our behaviour can impact on our friends and family.
Reminders
Reading is a huge focus here at Chilton - Year 3 have a new reading record book that they take home each night. It would be brilliant if they could read as much as possible at home.

Thank you for your continued support,
The Year 3 Team