Weekly News - 14.5.21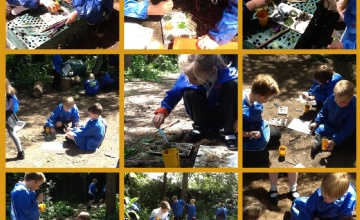 We can't quite believe how quickly Term 5 is going! Read on to find out what we have been learning this week.
English
This week we had a wonderful time writing all about the fair! We used some incredible language to describe the sounds, sights and smells! Writing about the scrumptious candy floss certainly got our tummies rumbling! We began the week creating the sounds of the fair with an incredible soundscape and ended the week with incredible setting descriptions. We are so proud.
Maths
In Maths we have been consolidating our understanding of fractions. We began by reviewing unit and non-unit fractions then moved on to comparing and ordering them. Finally, we began to look at equivalents. We can use our fraction walls and resources to help us to do this.
Topic
This week we learnt about Chris Ofili's painting, 'No Woman, No cry'. We found out how he addressed racism and stereotypes and had a really mature discussion about this together. We completed our identity collages and then headed into the forest school.... to make our own paints out of nature!! This was so much fun and the children were incredible!
PE
This term te children have been developing skills linked to tennis in PE. They have also begun addition 30 minute sessions with a brilliant coach. It has been a pleasure to see the children collaborating so well and their team work has improved so much.
Home learning
Start fact finding about spiders! In Week 6 we will be writing reports about the wonderful Charlotte and her kin! Please use your get epic account to explore non-fiction books about spiders. www.getepic.com - class code is ngb3999
Have a wonderful weekend,
The Year 3 Team