Weekly Blog Post - 25.6.21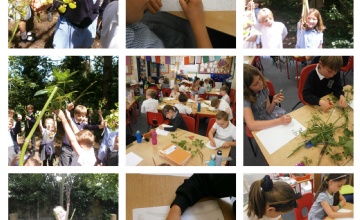 English
In English this week, the children have created their own lands just like the ones we have read about in The Magic Faraway Tree. We have had lands of chocolate, lands of music, lands of spaceships and even a land called 'Cuddle Mufuddle' where instead of living in a house you live in a mouse, and you don't spend money, you spend honey! The children have used lots of descriptive tools to write all about their own lands. It has been very entertaining and a lot of fun.
Maths
We have revisited time this week. The children have been looking at the 24 hour clock, converting digital time into analogue time and working out durations of time.
Topic
We have had a wonderful week in topic. We have been measuring our cress roots over these past 5 days and monitoring the progress of the broad beans we are growing. We have also been examining stems of plants and exploring their functions through observations and experiments.
Home learning
For home learning this week, we would like you to create a still life picture of a plant or flower. It can be in your house, garden or even one you have picked from outside. Make sure you examine the plant carefully and get as much detail as you can. Really look at the patterns on the leaves, stems and petals. You can use any medium you would like but it has to be still life not from your imagination.
Messages
Class Photos - On Tuesday, we will have class photos taken. Please could all of the children be in full school uniform on Tuesday. This means no PE kits (we will manage PE and Sports sessions around the children wearing uniforms). The photography company has asked us to pass on the message that the children will need to be wearing socks / tights as they take their shoes off to stand on equipment they bring for the photos.
Fidget Toys - Can we remind everyone that fidget toys are not allowed in the classroom. If they are bought to school they need to stay in lockers until home time. Thanks