Year 3 Weekly News - 9.7.21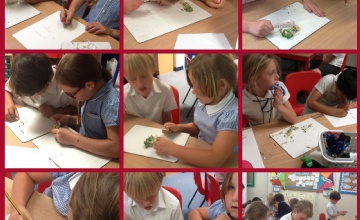 Year 3 are simply amazing! We are so impressed with their resilience and hard work as we near the end of the academic year. It has been lovely to see the children excited about the next school year and our visits to the new classrooms were great on Thursday! What else have we been up to?
English
This week, the children have written their own stories where the characters from the Faraway Tree visited their own made up lands. They were able to follow a 5 part story model and have written incredible stories. They have seriously impressed us with their range of sentences, using different openers, amazing vocabulary and conjunctions to link. They turned them into their own books to be shared with others!
Maths
It seems that the Year 3s have turned into fraction experts! This week they were able to find tenths, solve problems involving fractions and then find fractions of amounts. The children are applying their multiplication and division knowledge which is making it much easier for them! They have been so involved and took on some challenging questions. Well done!
Topic
Some of our plants are getting VERY big!! This week we explored flowers and their function. We learnt about cross pollination and fertilisation and created comic strips to explain this. We had some beautiful flowers that we were able to observe and sketch and then paint with water colours - we have some seriously good artists in Year 3!
Home Learning
Have a play at the fraction game below:
https://www.topmarks.co.uk/Flash.aspx?f=bingofractionsofamountsv3
Reminders:
- We have our final transition morning next Thursday where we will be with our Year 4 teachers in our Year 4 classrooms
-Sports day details have been sent out!
Monday 19th July – Year 3 and 4 at 9:15 and Reception at 13:45
Have a wonderful weekend!
The Year 3 Team