Year 3 Weekly News 26.11.21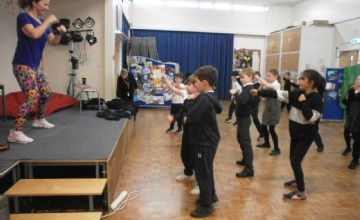 English
We have continued with our suspense writing this week. Our focus has been to use short, simple sentences, similes and rhetorical questions, all of which help us create some excellent and very spooky narratives! Next week we will be looking at informal letters and using our new Anthony Browne book, Gorilla, to help us write them.
Maths
This week we have been looking at statistics and collect Bing data. We used tally charts to collect our data and pictograms and bar graphs to represent it. We were also able to understand and interpret other pictograms and bar graphs to answer questions about that data.
Topic
We have started our new topic 'How My Body Works' this week. For our entry point, we had a fitness instructor come to school and put on a clubbersize training session. The intense activity made us think about exercise and how our body changes when we do it. Next, we focused on the organs of the body and created them out of clay. Finally, we discussed what a balanced diet is, why it is important and which foods are in the food groups.
Love To Learn
This week's Love To Learn is to design a T-Shirt that promotes healthy eating. You could draw a T-shirt that shows your message or, if you are feeling particularly creative, you could make one. Bring it in next week, so we can display them in the classroom.
Messages
Next Monday Year 3 are learning about Volume and Capacity and have a practical lesson. Please could you bring in any containers you finish with over the weekend (drinks bottles, shampoo, shower gels and jars etc) to help show various capacities and volumes.